Eliciting R Articulation Boom Cards - R Sound Speech Therapy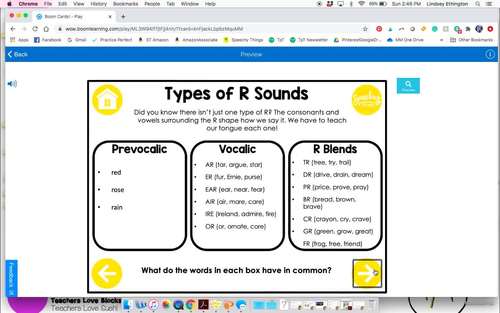 ;
Compatible with Digital Devices
The Teacher-Author has indicated that this resource can be used for device-based learning.
What educators are saying
Love this resource! I use this with all of my /r/ kids. I also use it to teach parents so they can help with carry over at home. Great visuals!
This has been really useful for the students who need the steps really broken down in order to produce an accurate 'r' sound.
Also included in
Make planning therapy easy with this digital R sound bundle. These resources are all digital, meaning no-prep, perfect for teletherapy, and are easy to just pull up on your iPad even for an in-person session. It contains materials for auditory discrimination, elicitation, achieving vocalic R, drill

Price $37.00

Original Price $41.25

Save $4.25
Description
So you need to elicit the R sound? Goodness that can be a PAIN, especially in this digital world we're living in. Eliciting R Boom Cards™ is a simple program that includes activities, visuals, and video examples that take you step-by-step through foundational skills, establishing common vocabulary and awareness, selecting bunched or retrfolex R, tons of elicitation strategies, and 5 quick drill activities to solidify the motor plan once you've achieved the R sound. It even includes quick brain breaks so there's no need for games or extraneous activities to take time away from making progress.
☞ Want the most "bang for your buck?" ☜
I strongly encourage you to check out the Digital R Bundle! You buy it once and you download any added resource FOR FREE!

↠ Please note:
If you own Teaching R, there is an overlap between the two resources, but that are intended to each be their own stand-alone resource. Please read the detailed descriptions and watch the preview videos for both resources if you would like more information on the differences. If you still have any questions, I'm happy to help! You can leave questions on TpT, DM me on Instagram, or send me an email at lindsey@speechythings.com.

Click HERE to take these boom cards for a test run!


⇨ WHAT'S INCLUDED ⇦
● Throughout the resource, you will find
Brain breaks (jokes, riddles, interesting facts, movement breaks, and conversation topics)
Video demonstrations
Visual supports
Detailed instruction for motor planning
Support for the principles of motor learning
● "Getting Started" Section
Intro to the R sound
Explaining the variations of the R sound
Generating R words
Self-correcting R true/false
Sorting activity (R vs W vs L words)
Auditory discrimination activity
Front/back concept pre-check
Label your "R Machine"
Oral awareness activities: (tongue: up/down, wide/skinny, flexed/relaxed) (lips: rounded/relaxed)
Activity for tongue/jaw dissociation and awareness
● Stimulability Section
Determining bunched vs retroflex
Stimulability activity (prevocalic, vocalic, blends)
● Elicitation Strategies Section
For any form of R
For retroflex R
For bunched R
● Quick Drill
5 open-ended, 10 trials each (just double production for 100 trials)
⇨ ABOUT BOOM CARDS™ ⇦
To use Boom Cards™, you must be connected to the Internet. Boom Cards play on modern browsers (Chrome, Safari, Firefox, and Edge). Apps are available for Android, iPads, iPhones, and Kindle Fires. For security and privacy, adults must have a Boom Learning account to use and assign Boom Cards. You will be able to assign the Boom Cards you are buying with "Fast Pins," (play provides instant feedback for self-grading Boom Cards). Fast Play is always a free way for students to engage with Boom Cards decks. For additional assignment options, you'll need a premium account. If you are new to Boom Learning, you will be offered a free trial of our premium account. Read here for details: http://bit.ly/BoomTrial.


○○○○○○○○○○○○○○○○○○○○○○○○○○○○○○○○○○○○○○○○○○○○○○

SIMILAR RESOURCES
● This resource is included in my Digital R Bundle. As the bundle grows, the price will increase. Once purchased, new additions can be downloaded for free.
● R Assessment
● Teaching R
● R Tongue Twisters
● R Puzzles (perfect visual and tactile cue for tricky vocalic R kids)

○○○○○○○○○○○○○○○○○○○○○○○○○○○○○○○○○○○○○○○○○○○○○○

CUSTOMER TIPS
○ Push the green star! Follow my store to see new resources up to 50% off!
○ TpT Credits: Review purchased products to get credits toward your next purchase
○ If you have a question or issue, you can email me at lindsey@speechythings.com or leave a Question in my store. It is important to me that you are happy with your purchases!

○○○○○○○○○○○○○○○○○○○○○○○○○○○○○○○○○○○○○○○○○○○○○○

COME SAY HI!
● VIP Emails : Get access to my freebie library, exclusive deals, and therapy tips!
● Instagram : I'm here most often – therapy ideas, Q&A's, and daily life!
● Blog : Find helpful ideas and reviews for your therapy room!

● Youtube ● Pinterest ● Facebook ●

○○○○○○○○○○○○○○○○○○○○○○○○○○○○○○○○○○○○○○○○○○○○○○

This resource is copyrighted by Lindsey Hockel, MS, CCC-SLP, owner of ©Speechy Things™ . Purchase of this item is intended for use by a single customer and is not to be shared with other professionals. If someone is interested in this resource, please direct them to my store. You are, however, welcome and encouraged to send pages home with students as needed. Thank you for your support and understanding!
Report this resource to TPT