Emoji Agamographs + Writing Prompts | Fun Emoji Anytime Activity!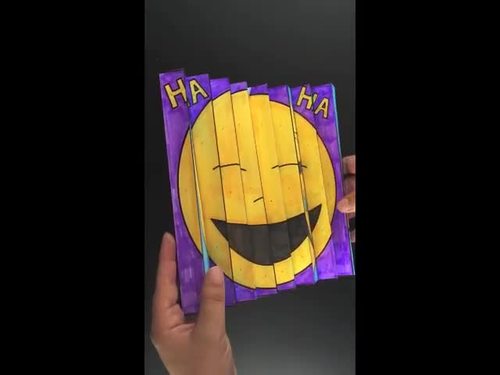 ;
Also included in
This agamograph bundle includes 7 individual sets that cover the following: EmojisEarth DayJohnny AppleseedHalloween, Fall, Thanksgiving, Christmas Around the World / Holidays Around the World, Valentine's Day, Mother's Day, and Father's Day, Patriotic holidays for America (Memorial Day, Armed Force

Price $39.99

Original Price $52.53

Save $12.54

This bundle contains both of my fun and unique emoji activities for your students at a discounted bundle rate. You will find that I have included my emoji coloring pages (with writing) and my emoji agamograph resource as well. Both are easy for the teacher (or parent) and very fun for kids! 1. Emoji

Price $7.99

Original Price $11.08

Save $3.09
Description
This set of my unique agamographs includes emojis that students will absolutely love. I have created 4 emoji agamograph designs using 8 expressions.
Also included are writing materials to support:
narrative writing
descriptive writing
expository writing
persuasive writing
See all details below, and please see the preview for complete information about this resource. ***I strongly recommend this for grades 3 and above***(If you want to do agamograph with your students and work with children below grades 3, I recommend my 3-way agamograph collaborative posters).
Agamographs are fun and contemporary activities to easily integrate art into your classroom. There is a huge "wow factor" in this art activity—students love the surprise. And best of all, they did it themselves!!
Kids LOVE emojis. I also have emoji math pages and emoji coloring pages in my interactive and pattern-filled style.
This is a unique lesson created by Art with Jenny K.
What's an Agamograph? A picture that morphs into another image when you look at it from a different angle.
It's hard to say but easy to do with the resource that I have created.
Included:
Absolutely everything you need (besides some basic supplies) is included:
handouts
written instruction for the teacher
written instructions for students
quick checklists
A video breaking down the whole process.
Writing Activities
Agamograph pages (2 pages per design--4 designs included).
Let me do the teaching with this video!
Possible ways to use this project:
As the anticipatory set of an upcoming writing unit.
As the final project at the end of a writing unit.
To help facilitate discussions surrounding emotions. Last but not least, use this project all on its own for a wonderful - memorable integration of art and a discussion of the history of our written language.
As a creative outlet for your students.
The images have already been "spliced" together, and each space has been assigned a color. Students color them and then fold them. Once completed, students can walk from one side of the image to the other and watch it change!
Art teachers often use agamographs. However, I've taken out most of the "prep and mess" so classroom teachers can also use this project in their classrooms. My agamographs make a big impression on children and the school community. They give kids an excellent opportunity to explain how they created them and all the steps and sequences involved.
Basic supplies needed:
• Colored pencils, crayons, or markers in these colors: red, blue, yellow, green, purple, and black.
• 9" x 12" construction paper (this could vary).
• Copy paper
• Ruler (as thin as possible)
• Glue (glue sticks are best)
• Scissors
My other Agamographs:
My 3-Way Agamographs HERE.
***********************************************************************
Please click the "Follow Me" button on this page to keep updated on all my new offerings!
Thank you for supporting my work and infusing your classroom with art!
Jenny K.
***************************************************************************
Let's Connect
***************************************************************************
Sign up HERE to join my mailing list and I'll send you my kindness coloring sheets as a 'thank you.' I love to spoil my e-mail subscribers by sending exclusive freebies, tips and tricks, as well as special announcements of sales–not to mention that after you join you'll get invited to my "Subscribers Library" of freebies.
**************************************************************************
TERMS OF USE:
The purchase of this product is for one license and is for PERSONAL USE ONLY.
© Copyright 2015 Art with Jenny K.® ALL RIGHTS RESERVED. Permission is granted to copy pages specifically designed for student or teacher use by original purchaser or licensee. The reproduction of any part of this product is strictly prohibited. Copying any part of this product and/or placing it on the internet in any form (even a personal/classroom website) is strictly forbidden. Doing so is a violation of the Digital Millennium Copyright Act (DMCA).
**************************************************************************
If you like my work please help me keep the price low by purchasing additional licenses for any teacher you would like to share this lesson with. Extra licenses are discounted.
Report this resource to TPT