Emoji Book Reports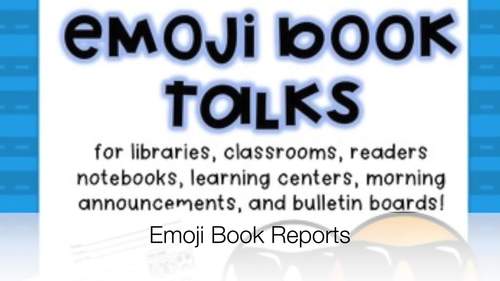 ;
Description
Want to encourage your students to write and talk about the books they've read? Ditch the traditional book report for these emoji book talks, using the language of emojis to jump start student thinking. Peer book reviews are so influential in the reading lives of our students! You can use these emoji book talks in your library, classroom, and morning announcements!
This packet includes:
•Teaching Guide/Tips and Instructions
•Color Book Talk Forms (with or without book talk hints, with drawing response or written response)
•Ink Friendly Book Talk Forms (with or without book talk hints, with drawing response or written response)
•Color Emoji Signs with Words
•Color Emoji Signs without Words
•Ink Friendly Emoji Signs with Words
•Ink Friendly Emoji Signs without Words
This is a book talking activity that you can use as a learning center, a library lesson, a bulletin board, and for morning announcements. It will work for students from kindergarten through 8th grade because student responses will vary according to their ability. Older students will add more words and more details in their book talks than younger or struggling students, who may draw their response.
This lesson can be used with any type of book, fiction or non-fiction, picture book or chapter book. You can use this in a classroom or in a school library to encourage students to talk about books they've read, using the common vocabulary of emojis. Each student can fill out a book talk form, choosing an emoji for the book they've read and providing details to support their choice. When they share their book talk with the class or on morning announcements, they will hold up a laminated emoji as a visual aid for their presentation and to help keep their audience interested. I have included a rubric for those who want students to evaluate their written response.
Book talks are critical to helping students find new books to read. Peer recommendations make a huge difference in influencing students to read more. I designed this product to add an element of fun and pop culture to your reading promotions!
******************************************************************************
Here's what happy customers have said about this product:
"LOVE these! My students are so excited to write about their reading when they come to the Library & I have these out for them to use! Woohoo! Thank you!!!!" (Thank you, alexhb!)
"Always looking for a better way to help kids booktalk our books. The overall response from the 3-6th graders was very positive! Kids are looking forward to getting started! Thanks!" (Thank you, buyer!)
"I love these book reviews for younger students. Using them with 1st and 2nd graders!" (Thank you, Julie S.!)
****************************************************************************
RELATED PRODUCTS:
Fiction Genres Would You Rather
******************************************************************************
I am always excited to connect with you! Here's where you can find me…
My LIBRARY LEARNERS BLOG provides free tips, photos, and information to help you inspire your learners to wonder, discover and create!
I OFTEN PROVIDE FREEBIES TO MY FOLLOWERS AND ALL NEW PRODUCTS DEBUT AT 20% OFF!
>>CLICK HERE to follow me and be the first to hear about my newest products and sales!<<
Report this resource to TPT