Emoji Coloring Pages + Writing | Fun Summer or End of the Year Activity!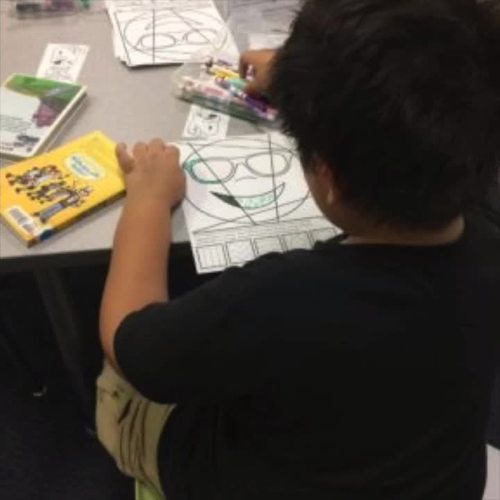 ;
What educators are saying
Students love emojis! These are a hit with early finishers and students who just need a bit of a brain break!
Not only do I love this but my kiddos love it too!! Thank you for a useful resource to use in my classroom!
Also included in
Art Projects: Art Activities for the entire year BUNDLE for classroom teachers and art teachers for all seasons and holidays. They are designed for grades 2-8. There is math, writing, social studies, collaboration, and art all combined to make life as easy for teachers as possible while allowing chi

Price $129.99

Original Price $186.94

Save $56.95

This bundle contains both of my fun and unique emoji activities for your students at a discounted bundle rate. You will find that I have included my emoji coloring pages (with writing) and my emoji agamograph resource as well. Both are easy for the teacher (or parent) and very fun for kids! 1. Emoji

Price $7.99

Original Price $11.08

Save $3.09
Description
Emoji Expression Coloring Sheets—interactive and pattern-filled Pop Art coloring sheets including writing prompts—NO PREP for teachers (or parents), tons of FUN for kids!
These coloring sheets are a great activity for back to school, a neat contribution to your morning work collection, and/or a fun, creative project for any time of the year!
These coloring sheets are also great for helping with any calming activities. Artistic activities such as sculpting, painting, drawing, or coloring lower stress levels and promote calmness. It's been shown to help people, kids especially, deal with challenging emotions like anxiety. Art can also help young people grow in confidence and develop social skills.
This set includes so much:
8 interactive coloring sheets
8 pattern-filled coloring sheets in full and 1/2 page
2 writing prompts
Color example
Emoji history handout
Instructions 
These will hit home for your students and their love of technology and emojis!
I also have coloring sheet sets featuring Mermaids/Unicorns, Shells & Summer, and many more (you can find my complete collection of coloring sheet offerings HERE).
You may also like my Emoji Math (Multiplication Review) Coloring Sheets and my Emoji Agamographs.
Calming corner: If you have a calm down corner in your classroom that permits your students to calm themselves when they feel stressed or overwhelmed, these coloring sheets would be a great addition to the activities you have included in your calming corner. These emoji expression coloring sheets are a quick and easy (no prep) activity that allows students to be mindful and expressive of their feelings—a recognition which often helps them calm down and become re-centered. Many teachers have used this resource in this way.
Morning work: These are great for morning work to wake up the brains of your students. Testing is a part of life, as we know. Use these to start the brain in the morning before testing, or use them when students finish their work early, so they have something creative to do after testing.
Conferencing: I've even had teachers comment that these interactive coloring sheets are great to use with students when one-on-one conferencing is necessary to keep the other students engaged and busy.
My interactive and pattern-filled Pop Art coloring sheets make art integration easy for classroom teachers. Print the sheets that fit the interests and needs of your students - make copies and hand them out. Provide students with crayons, markers, or colored pencils. The interactive coloring sheets are great because they make kids think. No two interactive coloring sheets will ever be the same—just like the kids who are creating them!
Students spend a lot of thought and consideration when deciding where the patterns will go in each design. Students also have to color small details, which improves their fine motor skills, which help with many things—handwriting being one example. These would make a fantastic bulletin board display when all are complete. Coloring is calming—there are so many benefits!
As an art educator, artist, and lover of all things "artsy," I am a big proponent of "art for art's sake." My Pop Art interactive coloring sheets are designed to be used any time for the sake of making art! Great for art teachers, classroom teachers, homeschool parents, and more!
I am, however, a teacher, so I understand how hard-pressed classroom teachers are for time. You might not feel like you can give up precious lesson time to let the kids "color." So to help make these art-themed activities more aligned to the common core standards, I have included writing prompts in this lesson. As one happy teacher commented, "I love that I can incorporate artwork in CCSS using these student-designed pictures. These pictures lend themselves to being a springboard for the writing process—addressing Core Standards. Very innovative!! Thank you!"
The pattern-filled designs are included to give you flexibility with students that might otherwise struggle to add the patterns themselves.
See my Full set of Pattern Filled Coloring Sheets for Holidays.
Coloring isn't just for kids–adults love to color. Make sure you download your own set of FREE Pop Art Adult Coloring Sheets for Teachers.
Please click the "Follow Me" button on this page to keep updated on all my new offerings!
Thank you for supporting my work and infusing your classroom with art!
Jenny K.
---
Let's Connect
---
Sign up HERE to join my mailing list, and I'll send you my kindness coloring sheets as a 'thank you.' I love to spoil my e-mail subscribers by sending exclusive freebies, tips, and tricks, as well as special announcements of sales–not to mention that after you join, you'll get invited to my "Subscribers Library" of freebies.
---
TERMS OF USE:
The purchase of this product is for one license and is for PERSONAL USE ONLY.
©Copyright 2016 Art with Jenny K.® ALL RIGHTS RESERVED. Permission is granted to copy pages specifically designed for student or teacher use by the original purchaser or licensee. The reproduction of any part of this product is strictly prohibited. Copying any part of this product and/or placing it on the internet in any form (even a personal/classroom website) is strictly forbidden. Doing so is a violation of the Digital Millennium Copyright Act (DMCA).
Purchase extra licenses for others to use this resource at a discounted rate.
Report this resource to TPT