End of The Year Slideshow Templates | Digital Memory Book | Google PowerPoint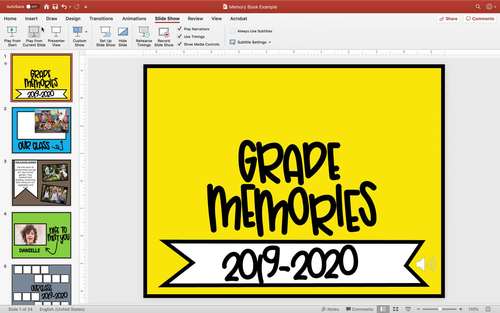 ;
Zip

Google Apps™
Includes Google Apps™
The Teacher-Author indicated this resource includes assets from Google Workspace (e.g. docs, slides, etc.).
What educators are saying
OMG we used this as an end of year project to help parents reflect on their kids experiences in 5th grade. It was amazing.
Loved using this for my end of year slideshow at our party. The students and parents enjoyed it and I loved all the variety of templates you provided. Thank you so much!
Description
Looking for fun and memorable way to celebrate the end of the school year? This DIGITAL End of the Year Memory Book for teachers will create a unique keepsake to help your students remember their school year together. This is the perfect end of year activity and simple to create using these ready to go templates! You can also customize over 170 blank templates!
Over 87 unique frames are set and ready to go for you in both PowerPoint and Google Slides.
170 blank frames for you to customize!
Fonts & Pre-made phrases for you to customize blank slides
These end of year digital memory book slides features pastel colors. Black and white printable is also included.
Clipart also included to personalize grade level and year.
Instructional Video included.
You can even add music to your slideshow in PowerPoint!

These digital end of year slideshow templates are available in
FONT that goes along with slideshow
Each Slide has a clean, eye-catching frame with transparent centers for easy insert of photos. No more cropping to perfect sizes, simply send photos to back and you have a beautiful slide ready to be presented or printed. Want to add more text, simply add a text box and type away!
Send slides to students to add their own memory images to add to a class presentation!
Slides featured, in multiple bright colors and layouts: (also black & white)
Over 180 blank templates
Cover pages (preschool, pre-k, kindergarten, 1st grade, 2nd grade, 3rd grade, 4th grade, 5th grade and 6th grade)
Class Photo pages (10 students-31 students)
First Day
Our Class
Nice to Meet You
Back to School
Recess
Fun with Science
Fun with STEM
Fun with Reading
Fun with Math
Fun with Social Studies
Fun with Art
Tech Time
Party Time
Special Event
Memories
Lots of Laughs
Lets Explore
Learning is Fun
Fun Times
Friends
Field Trip
Better Together
Fall
Winter
Spring
Available Formats: PowerPoint, Google Slides. You can also print slides!
⭐CLICK HERE >> To follow me and find out about new products, sales and freebies!
Check out these other >>> DIGITAL DISTANCE LEARNING RESOURCES
Digital Planet Reports
Digital End of Year Slideshow Templates
Digital Morning Meeting Slides: (Digital and Printable) 2nd & 3rd Grade
Digital Morning Meeting Slides (4th and 5th Grade): (Digital and Printable)
Digital Daily Challenge Journal : (Digital and Printable)
Digital Monthly Writing Unit :
Digital Monthly Paired Passages (Fiction and Nonfiction) :
Check out these other digital nonfiction resources for the Google Classroom
**IMPORTANT NOTES FOR THE TECHNOLOGY PIECES**
Some of this resource is in Google Slides format. You will NEED TO HAVE ACCESS to GOOGLE SLIDES to use this resource. It is also helpful to have GOOGLE CLASSROOM but not necessary. It will help you easily send the activities to your students or children.
*You can also print this resource for a hard copy instead of completing digitally or print after completion to display and share work.
Please note: I am not affiliated or associated with Google, nor do they endorse this resource. 
Make sure to Follow Me so you know when I post new products. All products are 20% off the 1st 24 hours. You don't want to miss out!
Report this resource to TPT