End of Year Awards EDITABLE- 80 Color and B&W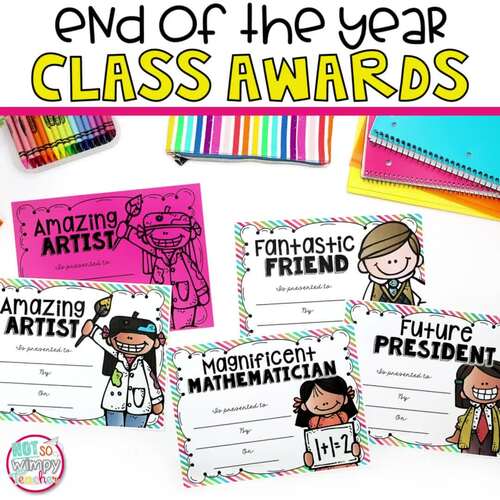 ;
What educators are saying
I used these as end of the year awards for my class and the students loved them. There were plenty of options to fit a range of different unique traits that the students have.
I was asked to help new teachers at my school prepare for the annual awards assembly at our school, and this resource saved me so much time! I loved that it was editable. Thank you so much!
Description
These editable end of the year awards will help you celebrate the end of the school year in red carpet style. Forget the Golden Globes and the Oscars–your students are the real award-winners! Celebrate how much they have learned this year with a classroom awards ceremony. These easy-to-use awards make it simple to recognize each student for their growth and unique talents. An updated fillable PDF makes it even easier to fill out the awards.
The Amazing Artist, Computer Whiz, and Social Studies Superstar in your classroom will feel important and special—as will all your students when they receive their special award. Customizable awards make sure each student has something just for them. What a fun and exciting way to wrap up a great year!
This resource includes 35 different awards. Each of them comes in boy and girl versions for a total of 70 certificates! Each certificate is available in color and black and white. There are also 10 editable and customizable awards for students who don't fall into one of the pre-printed categories. You can easily design a custom award just for them!
What's Included:
35 different awards (boy and girl versions of each for a total of 70 certificate)
Black and white and color options
10 customizable awards
An award recording sheet
A blank, printable PDF set perfect for handwriting student awards
An editable PowerPoint set where you can choose your own font and create customized awards
An UPDATED fillable PDF that allows you to easily populate the awards with names, teacher, and date
The 35 preexisting award categories are:
Aspiring Author
Super Scientist
Super Speller
Magnificent Mathematician
Remarkable Reader
Sight Word Hero
Amazing Artist
Writing Whiz
Mr. & Miss Manners
Handwriting Whiz
Sensational Smile
Excellent Encourager
Awesome Athlete
Class Comedian
Fantastic Friend
Star Singer
Awesome Attendance
Outstanding Organization
Happy Helper
Wonderful Worker
Terrific Team Player
Social Studies Super Star
Heart of Gold
Most Curious
Neatest Desk
Hard Worker
Computer Whiz
Always Smiling
Future Teacher
Future President
Character Counts
Teacher's Helper
Character Counts
Future Actor/ Actress
Most Improved
10 Fully Editable Awards (Add your own title!)
How to Use It in the Classroom:
Focus on the title of the award and select one that works best for each student. Don't worry about what the image on the certificate looks like. Selecting the right superlative is more meaningful than matching physical characteristics. 
You don't need to select the student who is best at science or math, etc… You might want to pick the student who has grown a ton in a particular subjector who is passionate about a particular subject, or who is always helping others.
Feel free to give the same award to more than one student if that's what fits best.
Start with the pre-printed certificates to save time. 
Use the customizable ones if you need something unique for a particular student. Don't think too hard about this. Usually, these are pretty obvious after spending a year with your students. When using customizable awards, you do need to add text boxes for their name, your name, and the date. 
Save time with the new PDF feature: Simply add your name, the student's name, and the date, and awards will auto-populate with the information.
Want to use the same fonts I used for extra pizazz and polish? You can download them for free on Teachers Pay Teachers (personal use only). Just search for the font names KG Shake It Off Chunky and KG Summer Sunshine. 
Print out the PDF versions and handprint the certificates using our favorite smelly markers or pens.
Print on cardstock for extra durability.
Print the black and white copy on colored paper or cardstock to make it stand out without using up all your ink.
***This resource can be used for distance learning!***
Click HERE to watch a simple tutorial.
❤️❤️Why You'll Love It: ❤️❤️
Fun and unique way to celebrate the end of the year
Makes students feel special and valued with a personalized award
Choose from pre-printed or customizable awards
Easy to prep and print

FAQs
Q: Are the images editable?
A: I'm sorry, only the text is customizable.
Q: What font do you use for the title?
A: I used KG Shake it off Chunky and KG Summer Sunshine Blackout for the title. You can download it for free for personal use from TPT.
Q: What grade are these recommended for?
A: I would recommend using these awards in grades K-4.
Q: How do I get to the editable awards?
A: This resource comes with three files in color and black & white versions. An editable PowerPoint, a printable PDF, and a fillable PDF.
***************************************
Other End of Year Products:
Report this resource to TPT