End of Year STEM Activities for Summer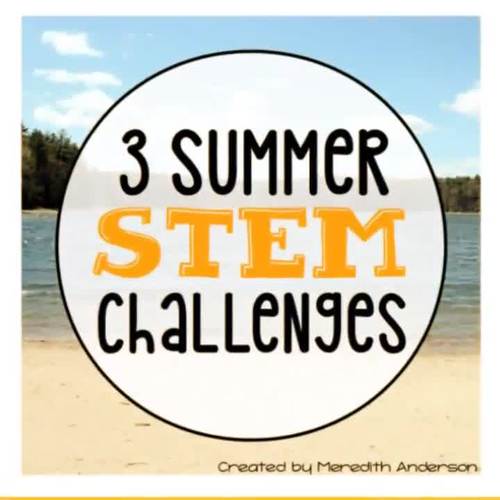 ;
Also included in
This is a MEGA BUNDLE of the following seasonal STEM resources: Fall STEMWinter STEMSpring STEMSummer STEMYou will receive 12 main STEM challenges (3 for each season) plus over 20 additional task card challenges! These activities are highly engaging and appropriate for a wide range of grades.Please

Price $22.00

Original Price $36.00

Save $14.00

This bundle includes resources to keep your students actively engaged in STEM all year long. The bonus file includes an overview for using the resources as well as some extra options for planning, recording, and tracking.There are over 90 STEM challenges included in this bundle.1) Start with the ST

Price $165.00

Original Price $256.00

Save $91.00

Elementary STEM teachers, this bundle has hundreds of activities (300+!) for your STEM classes! With a mix of quick STEM challenges, STEM center activities, and more in depth engineering design challenges, you will always have something new to do!This bundle includes everything in both the K-2 and 3

Price $259.00

Original Price $415.00

Save $156.00

Custom bundle for Jamie S.

Price $99.00

Original Price $182.50

Save $83.50
Description
Looking for the perfect STEM challenges to keep your students engaged during end-of-year festivities, summer camp, or field day activities? This resource includes everything you need to help your students design, create, and innovate their way to success with three hands-on challenge.
From crafting a submersible water craft or SCUBA diver to constructing a strong sand castle and creating a squirrel-proof bird feeder, your students will love putting their creativity and critical thinking skills to the test.
Want just one? Find the individual challenges at these links:
What You'll Get
✅ For the Teacher: Suggested Material List for each challenge: for these challenges you will need recyclables, tape, bird seed, sand, a tub/bin, and water. Other items are optional.
✅ STEM Challenge Tips
General tips for any STEM challenge.
✅ Each Challenge Includes
Teacher Notes
Sample Pictures
Printable Challenge Poster: Hang at your STEM center or near where the STEM creations are, especially if they will be on display for the class or a STEM fair, parent night, etc.
Printable pages to use with the challenge and guide the students through the engineering design process.
✅ STEM Challenge Cards These cards include the 3 main STEM challenges in this resource (with variations), as well as bonus, open-ended challenges. You can use these if you would rather set this up at a STEM station as a self-guided STEM activity. Choose from cards with images or without.
✅STEM Graphic Organizers Summer themed – use with the three challenges or the challenge cards, provided to allow the students to work through the engineering design process. You may also use this sheet for any of the other challenges if you prefer a more generic one.
This is part of the STEM Challenges for All
Seasons BUNDLE, so please do not purchase both.
***********************************************************************
FAQs about STEM
Why use STEM activities in your classroom or homeschool?
These STEM activities are project-based and cross-curricular. Your students will gain experience in soft skill areas and foster a growth mindset while:
✓ Learning to work as part of a team.
✓ Communicating effectively and clearly to persuade others.
✓ Gaining confidence in presenting and speaking to groups.
✓ Persevering through a challenge when the initial design fails.
✓ Accepting constructive criticism from peers.
FAQs
Will I need to spend a lot of money on supplies?
You don't need a lot of expensive materials to get started! You probably have most of the supplies in your classroom already, or in your recycle bin. I have developed most of my STEM challenges to be easily modified based on the materials you have on hand. For most of the challenges, you will need basic office or craft supplies and household recyclables such as:
tape
paper, index cards, or card stock
recyclables like plastic cups, paper towel rolls, and cereal boxes
craft sticks or straws
I've never done STEM challenges before. What can I expect?
I've got you covered! There are notes and photos in the pack, and I have written several blog posts to get you started, two of which you can find here and here. All of my STEM challenge resources guide you through the engineering design process step by step.
I don't have time to do this as a group activity in my classroom. Can I still use this resource?
Yes! With STEM task cards, you can set up an independent learning center for your early finishers or when you do stations. Provide the materials, STEM task cards, and the included recording sheets or graphic organizers, and the students can work on these challenges independently, either alone or in small teams. Keep your materials in STEM bins so that you can easily rotate through them!
*************************** Related Resources *************************
STEM Activities - 10 STEM Challenges
STEM Activities - 10 STEM Challenges (Set 2)
STEM Challenges Classroom Pack (STEAM)
STEM for all Seasons
Engineering Design Challenges (initial purchase)
STEM Engineering Design Challenge #1 - Design a Transport Device
STEM Engineering Design Challenge #2 - Design a Power Transmission Tower
STEM Engineering Design Challenge #3 - Design a Periscope
STEM Engineering Design Challenge #4 - Design a Cargo Ship
***********************************************************************
Disclaimer: I have done my best to keep these as safe as possible. However, please make sure that you do your own due diligence when performing any STEM challenge. Adult supervision is necessary. Please use care, caution, and your best judgement when performing any STEM challenge, engineering challenge, or science experiment. The seller disclaims all liability for any damage or injury which might arise from the use of any of these projects.
Find more STEM at my blog momgineer
or at STEM Activities for Kids
Report this resource to TPT
Standards
to see state-specific standards (only available in the US).
Plan and carry out fair tests in which variables are controlled and failure points are considered to identify aspects of a model or prototype that can be improved.
Define a simple design problem reflecting a need or a want that includes specified criteria for success and constraints on materials, time, or cost.