End of the Year Activities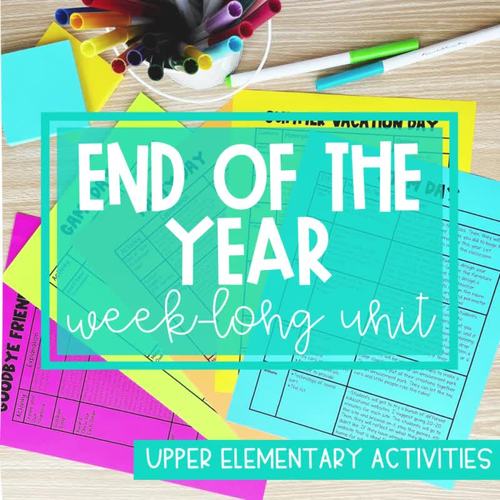 ;
PDF

Google Apps™
Includes Google Apps™
The Teacher-Author indicated this resource includes assets from Google Workspace (e.g. docs, slides, etc.).
What educators are saying
Used this for tutoring students during the summer. Very student friendly, and easy to print and use! Thank you for a great resource.
My students enjoyed these activities at the end of the year! They are fun, creative, and engaging. Thank you
Description
Make the end of the year engaging and fun with 5 themed days full of activities for upper elementary. Celebrate a STEM day, a Summer Vacation Day, a Game Day, a Party Day, and a Goodbye Friend Day. Each day is full of activities to keep your kiddos thinking, engaging, and ending the year on a high note!
Why will these lessons help your students grow?
Engagement- Your students will LOVE all of these activities.
Everything in One- This has EVERYTHING you need for the end of the year. From a yearbook, to awards, to engaging activities.
Rigorous- There are many rigorous activities included too!
Low Prep- All of this can be DIGITAL or just print and use!
What's Included?
*Most activities can be done DIGITALLY as well!
*Teacher Guides for EVERYTHING
STEM Day
-5 STEM Activities to do throughout the day..
*Read MRS. MCBLOOM, CLEAN UP YOUR ROOM and then the students will create something that will make the classroom run more smoothly next year. They will create a plan and give it to you to add to your room.
*Create a classroom for next year using area and perimeter
* Egg Drop
*Amusement Park
*Try a Website
Summer Vacation Day
-Students visit all 7 different continents and do an activity at each one.
North America- Great Lakes-Read a quick bio on each lake and plan a vacation to one for this summer
South America- The Amazon River-Create a boat to take across the entire Amazon
Europe- Epic Research-Choose a book about a European destination and make a poster about it
Asia- Mount Everest-watch a video about climbing Mount Everest and answer a writing prompt.
Africa- animals- become an African Safari tour guide!
Oceania- desert-play two truths and a lie about the desert
Antarctica- cold- build an igloo
Game Day
-Board Game Tournament
-"Make Your Own Game" time
-Play a "weird" game- Students read directions and then play a game that is uncommon
Goodbye Friend Day
Create a Class Yearbook
Make a Goodbye Song
Award Show for Each Other
Draw a Name and Write a Note for them to Open this Summer
Spotlight Shout Outs All Day
Party Day
End of Year Scavenger Hunt
Switch Sides If Game
Make Your Own Party Decorations
Food Note for Parents
Party Ideas
Create Your Dream Party

What are others saying?!
Mary M.- "My class loved this resource. We worked on it the last week of school."
Jessica M.- "My daughters loved this.. so much fun, and it helped us celebrate the end of the year, at home."
By clicking this link you can follow along with The Friendly Teacher! You will get to know when a new product is posted, which is 50% off for the first 24 hours!
Much Love,
The Friendly Teacher
Other Amazing Products You May Need:
Report this resource to TPT