End of the Year Awards - EDITABLE | Printable | Digital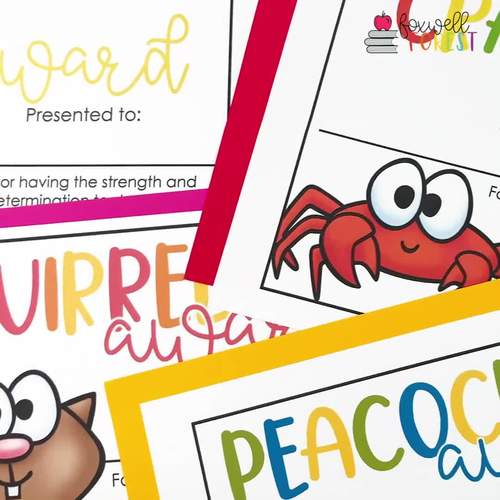 ;
Zip

Google Apps™
Includes Google Apps™
The Teacher-Author indicated this resource includes assets from Google Workspace (e.g. docs, slides, etc.).
Description
These editable End Of The Year Awards are such a fun way to celebrate students! Plus, they are so easy to use and will save you so much time!
Every student has different skills, strengths, interests, and personalities. The end of the year is a perfect time to celebrate these differences and celebrate the individuality of each child!
Kids LOVE animals, so these 55 Animal-Themed end of the year awards are a fun and meaningful way to send your students off for summer and to the next grade level! Use the included invitations to invite students and their families to the award ceremony! You can also use the Welcome Slide to create a slideshow (instructions are included for both PowerPoint and Google Slides™!)
When you download it there will be a Zip File with 3 versions of this resource:
Printable PDF
Editable PowerPoint file
Editable Google Slides™
3 versions: PDF, PowerPoint, and Google Slides™
55 Animal Themed End of the Year Awards (in color and black/white)
Award Assignment List (makes it SO easy to pick an award for each student!)
Award Ceremony Invitation (in color and black/white)
Virtual Award Ceremony Invitation (in color and black/white)
Welcome Slide to create an End Of Year Awards Slideshow (comes with 4 options available in color only)
Instructions on how to create a slideshow in PowerPoint and Google Slides™
Instructions on how to edit and send the awards digitally (includes directions on how to turn the awards into a PDF or JPG to send in emails, texts, or apps like Remind or Seesaw)
In this resources you will be able to EDIT the award description and add personalized information (student name, date, and teacher name) on each award in PowerPoint or Google Slides™. Please note that the clipart, heading, and format is not editable.
Just use the Award Assignment List to assign one of the 55 awards to each child in your class!
Here are the 55 animal themed End Of The Year Awards included (descriptions are fully editable in the resource):
: For being a hard worker that never gives up even when the task seems difficult!
For being a great listener!
: For having the strength and determination to stand up for what is right!
: For being a friend that builds up others and encourages them with kind words!
: For always being ready to listen and to learn!
For your beautiful singing voice and musical talent!
: For your love of reading and ability to figure out unknown words!
: For being quick to follow directions and make good choices!
: For your ability to create beautiful illustrations and artwork!
: For your endless curiosity and for being a "PURR-fect" example of a lifelong learner!
: For the way that you have grown and changed this year as a reader and learner!
: For your ability to adapt, change, and go with the flow especially when things don't go as planned! 
: For your strength and speed as an athlete!
: For your ability to get through your math facts in a snap!
: For being a gracious friend that treats all people in a gentle and kind way!
: For having a "DINO-mite" attitude and choosing to always do your best!
: For your "PAW-sitive" personality and the way that you bring so much joy to those around you!
: For your adventurous heart that loves to explore and discover new things!
: For your easy-going personality and ability to not let things ruffle your feathers!
: For having a sharp eye for detail and wanting to always understand how and why things work!
: For your ability to bring a ton of life and fun to everything you do!
: For your ability to light up our classroom with your kind heart and smile!
: For the "FIN-tastic" way that you show respect and treat others the way that you would want to be treated!
: For your ability to cleverly solve problems!
: For regularly hopping right up our clip chart with your great choices!
: For not being afraid to stick your neck out and try something new!
: For your massive sense of humor and ability to spread happiness to others!
: For your commitment to excellence and being a hard worker in all that you do!
For being a person of integrity who is transparent, honest, and trustworthy in all things!
For always jumping into whatever we are doing or learning!
For being brave and hanging in there even when things get tough!
For being a great leader with a passionate heart!
For having "a llama" courage and not being afraid to take risks and try new things!
For the huge amount of growth that you have made this year!
For having a gentle and quiet spirit that is empathetic and compassionate to others!
For always lending an extra hand to help a friend in need!
For your energetic, playful, and optimistic personality that inspires others to live their life to the fullest!
For being a diligent student that loves to learn and share knowledge with others!
For your gentle spirit and considerate heart that make you a delight to be around!
For your bright, bold, and outgoing personality that allows you to easily make new friends!
For the way that you use your creative heart to bring lots of color and beauty to life!
For being dependable and taking your responsibilities seriously!
For always being a loyal and faithful friend to everyone!
For your willingness to take charge when needed and ability to lead others well!
For your fierce skills in science!
For being a fun and supportive friend to hang out with!
For always wanting to stretch your mind and learn something new!
For your ability to spin together great stories that captivate readers and listeners!
For your ability to find and gather students that are in need of a friend!
For being a star STEM student and showing great innovation in science, technology, engineering, and math!
For your gracefulness and skill as a dancer! 
For your ability and dedication to hunt down the facts and seek truth!
For always taking the time to do your best and not rush through your work!
For the magical way that you see the world and can always find the best in others!
For your big heart that is evident in all that you do!
*See PREVIEW for a list of the 55 awards and ceremony invitations included.
Please let me know if you have any questions!
Would you like to see this resource in action?
Click HERE to read how to use the End Of The Year Awards!
Click HERE to read how to throw a stress-free end of year awards ceremony!
As of April 22, 2020 this resource is now Editable and includes both a printable and digital version
As of May 14, 2020 this resource now includes an Editable Award Ceremony and Virtual Award Ceremony Invitations
As of May 17, 2020 Google Slides™ were added
As of May 18, 2021 this resource now includes a Welcome Slide option and instructions on how to make an End Of The Year Awards slideshow
As of May 24, 2022 this resource almost doubled in size!! 21 NEW animal awards were added, so it now has 55 awards in all! Plus, the award assignment list has been alphabetized to make it easy to find each animal award.
Enjoy!
Cheering you on,
Becca Foxwell
Report this resource to TPT