End of the Year & Last Week of School Carnival-Themed Activities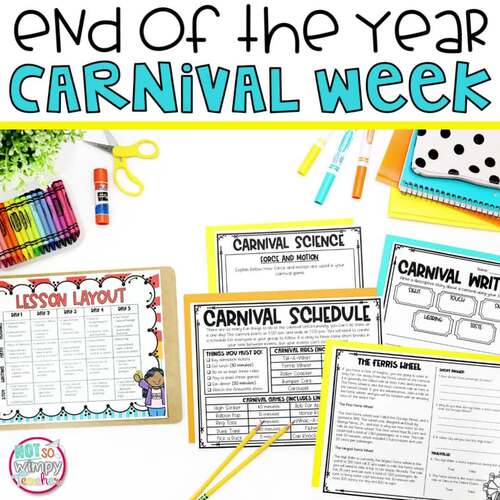 ;
PDF

Google Apps™
Includes Google Apps™
The Teacher-Author indicated this resource includes assets from Google Workspace (e.g. docs, slides, etc.).
What educators are saying
Our kids LOVED this! Kids from other grades came to our cardboard carnival and our students were so proud of their creations!
My students LOVED our end of year carnival. Such a fun and engaging way to end our school year together.
Description
Twas the week before summer when all through the halls
The students were antsy and bouncing off the walls
The textbooks and lessons were packed up with care
In hopes that summer vacation soon would be here
But the calendar said there were still five more days
And the teachers were desperate to keep kids engaged
They needed a lesson that would be lots of fun
And keep their kids learning 'til the school year was done
Luckily we've got the solution for you
A carnival in the classroom is just the thing to do!
The end of the school year is upon us! What better way to celebrate than with a carnival? A classroom carnival of course! Our End of the Year Carnival Week resource is a week-long carnival-themed curriculum that will keep your students in grades 2-5 engaged and learning right up until that final school bell rings. 
We know how crazy the end of the year can be. Students are distracted by the nice weather and preoccupied with thoughts of sleeping in, catching fireflies, and cannonballing into the pool. It's hard to keep them interested in what's going on in the classroom. 
Rather than fight those summer daydreams, why not embrace the allure of summer vacation instead? Our End of the Year Carnival Week resource transports your kids to the midway without ever leaving the classroom. No tickets, or motion sickness medicine, required. 
We've put together an ENTIRE WEEK of activities to keep you students engaged during those last, long days of school. This printable and digital resource is the perfect end-of-year activity whether you are teaching in-person, online, or a combination of both. 
Carnival Week includes activities for 4 different subjects: math, reading, writing, and science. There's also a week-long STEM exploration and a differentiated math board game. We have included EVERYTHING (but the popcorn) you need to keep your students not just occupied but engaged for an entire week. 
Doesn't that sound like fun? 
What's Included:
A printable PDF and downloadable Google Slides
5 carnival-themed reading passages and activities 
5 carnival-themed writing prompts
5 carnival-themed math activities with differentiation
A ready-to-use PowerPoint science lesson on force and motion
Week-long hands-on STEM activity with student printable
Differentiated Math Board Game
Detailed teacher directions, including a hack to turn Google Slides into a PowerPoint
Editable Parent letter
Proposed lesson schedule
Math Skills covered:
Addition
Subtraction
Money
Time
Graphing
Multiplication
Division 
Reading Skills covered:
Main idea
Context Clues
text-Evidence
Compare and Contrast
Character Traits
Point-of-View
Opinion
STEM Project:
Students will also be working on a week-long STEM project! The students will be designing and creating a working carnival game using what they know about force and motion. (Don't worry, we've included everything you need to teach a grade-appropriate lesson in a downloadable PowerPoint). 
There's even an editable parent letter so you can request supplies from families. The suggested supplies include basic household objects and recyclables, but feel free to modify or add to the list as needed. On the last day of the week, students will get to show off their carnival games and students will take turns playing them. 
Differentiation:
Carnival Week is perfect for students in grades 2-5. Multiple options make it super easy to differentiate these activities for your learners. Pick the activities that are just right for your class or individual students. 
For example, money problems give you the choice of using even dollars or amounts with dollars and cents.  Extra math cards ensure there are a variety of tasks appropriate for different grade levels. You can read the passages together as a class, or assign as independent work.
How to Use This Resource:
There are lots of ways to use Carnival Week in the classroom. We've included a proposed lesson layout with a detailed schedule of what activities to use each day. But we know the end of the year can be crazy, so we made sure that each reading passage and math activity can stand alone and you can choose to use the activities in the way that makes the most sense in your classroom.
Use the Printable Version:
Send home the parent letter requesting simple donations for STEM projects
Print copies of each activity and have students work individually, with partners, or in groups. You may want to print the game boards on card stock
Laminate game boards, spinners, and cards
Hand out each activity individually, or make a Carnival Week packet
Use one reading, writing, and math activity each day (you can follow the included lesson layout) or focus on one subject per day.
Show the PowerPoint presentation at the beginning of the week so students understand force and motion and can apply those concepts to their STEM projects.
Set aside thirty minutes a day, or give students one big chunk of time, to work on their STEM projects. 
Celebrate the end of the year with a Carnival Day when students can try out each other's games
Use the Digital Version:
Assign the Google Slides through Google Classroom and have students complete the activities independently.
Transform the Google Slide into PowerPoint slides and share through platforms like Canvas, Schoology, and Teams.
Use the digital version in classrooms with 1:1 technology.
In-class, have students complete the activity individually, with partners, or in groups. 
Use with small groups to provide extra support to students.
Pick one version for your entire class, or choose different options based on individual skill level.
Hold a class meeting online so everyone can share their STEM projects
If you use all four activities every day—reading, writing, math, and science/STEM the Carnival Week activities can take between 3-4 hours per day. (You're welcome).  Of course, if you are short on time, you can pick and choose the activities that work best for your class. Feel free to adjust the length of each activity to accommodate your schedule. 

*****Click here to watch a video that goes over this resource in depth*****
Report this resource to TPT