End of the Year Math Project | Road Trip Math Project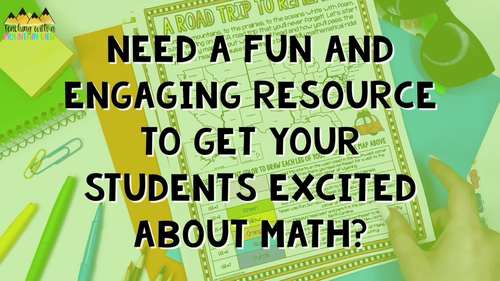 ;
Zip

Google Apps™
19 plus answer key and digital version
Includes Google Apps™
The Teacher-Author indicated this resource includes assets from Google Workspace (e.g. docs, slides, etc.).
What educators are saying
We had so much fun working through this activity! This was a great enrichment activity for 4th grade!!
My students really loved this end of year project that put many of their skills they learned this past year to the test!
Also included in
NINE in-depth, engaging, and differentiated skill review math projects to use throughout the year! I have designed by math projects to be highly engaging, student-driven, real-world, and enriching. This bundle of nine digital and printable math projects is perfect to use during math centers, as a

Price $29.99

Original Price $40.43

Save $10.44

Do you want to keep your academics rigorous but FUN during the last few weeks of school? This is the perfect bundle of end of the year activities for upper elementary. Take the stress out of the end of the year with these print and go resources. Which resources are included in this End of the Year A

Price $19.99

Original Price $27.04

Save $7.05

Take engagement and rigor to the next level with these high-interest math projects for upper elementary. I have designed my math projects to be highly engaging, student-driven, real-world, and enriching. You'll have a project for every occasion all year long! This bundle of THIRTY digital and printa

Price $89.99

Original Price $126.20

Save $36.21
Description
Engage your students at the end of the year with this digital and printable 15-page road trip themed end of the year math project for upper elementary! It is FUN for students and the perfect way to gauge your students' math, problem-solving, and critical-thinking abilities at the end of the year.
Students in upper elementary will warm up and review their math skills in a variety of ways while taking a road trip across the United States of America. The pages stand alone, so you can use a few of the pages or all of them depending on how much time you have and the skills your students are ready to review. (Making them PERFECT for DIFFERENTIATION!)
What Skills are covered in the Road Trip End of the Year Math Project?
All operations (addition, subtraction, multiplication, division)
Problem solving
Following directions
Place value
Money
Decimals
Basic fractions
Measurement
Bar graphs
Data
Equation building
And more!
Student Cover Page and Answer Keys Included
Perfect for Grades 4-6!
There is plenty of math involved in this project. Short on time? If your students show mastery on a specific skill, consider allowing them to use a calculator to solve some of the more complex problems!
This project also with interactive and movable elements. It is perfect for at-home learning or paperless practice!
What are teachers saying about Road Trip End of the Year Math Project?
⭐⭐⭐⭐⭐ "I'll be using this every year!! It lined up so well with our Math standards. My students wanted more!! Levels of High Order Thinking. Extremely engaging! Fantastic review of 4th grade standards. A lot of the students loved how they used their math in "real life situations"." - Grade 3 With Crabtree
⭐⭐⭐⭐⭐ "My 5th graders loved this resource. It was such a fun project. We worked on a little bit everyday and it was definitely their favorite part of the afternoon. I loved how the activities were fun while still hitting the skills I was looking to cover. My kids could not wait to get started on the newest part of the project every day. I was just thinking that I would try this with my 4th graders this year and as I looked through I thought - "I don't even have to change anything!" I cannot tell you how much I as a teacher appreciate that! Being able to depend on a resource to be everything you hope it is and then find it is even better is absolutely fantastic! Thank you for such a fun and engaging resource!" - Sunshine Daisies
⭐⭐⭐⭐⭐ "I used this with my students in May, and what a great way to wrap up our school year! My students love that these math projects don't feel like work and I love the high quality review they get. I'll use this one again for sure!" - Julie S.
More Math Projects!
Movie Marathon: A Long Division Project
Resort Report: A Multi-Digit Multiplication Project
Multiplying and Dividing Decimals Project
Graphing and Data Math Project
Perimeter and Area Math Project
Need more engaging End of the Year ideas? I've got you covered!
Total Pages
19 plus answer key and digital version
Report this resource to TPT