Endlessly Ever After by Laurel Snyder Lesson Plan and Google Activities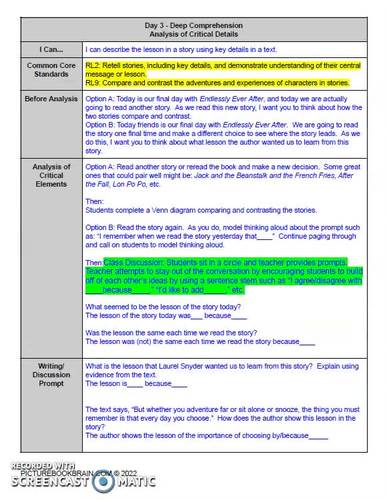 ;
PDF

Google Apps™
Includes Google Apps™
The Teacher-Author indicated this resource includes assets from Google Workspace (e.g. docs, slides, etc.).
Description
A guided reading or interactive read aloud lesson plan for the fractured fairy tale mentor text picture book Endlessly Ever After: Pick YOUR Path to Countless Fairy Tale Endings by Laurel Snyder and Dan Santat. An excellent fairytale mixture excellent for introducing choose your own adventure stories or as part of a fairy tale unit. Google Slides presentation and student activities on Google Docs.
Lessons and activities focus on:
Summarizing key details (4 strategies: narrative retell, timeline, graphic organizer, Somebody Wanted But Then So)
comparing and contrasting fairy tales
moral / lesson
close reading to infer
Main idea and details
The lesson plans include:
teacher script with strategic stopping points and questions for students to discuss
printable prompts for student post-reading responses through discussion in writing or reading response logs
4-5 day plan
Discussion questions
Suggested discussion strategies
Strategic stopping points for questioning and close reading
Anchor chart examples
Sentence stems / frames for oracy and vocabulary development
Great for bilingual classrooms
Printable worksheets for written responses in a reading log
Google Docs for student responses
Google Slides for displaying lesson ideas, discussion questions and prompts
How to Use This Resource:
whole group
small group
as a reading  intervention
special education (SPED)
bilingual or Dual Language / DLI classrooms
with ELLs for ESL instruction
Great for 2nd, 3rd, 4th or 5th grade
Google Classroom Distance learning / virtual learning
on chromebooks or iPads for tech classrooms to go paperless
Your second, third, fourth or fifth grade students will love this story!
✰ ✭ ✰ ✭ ✰ ✭ ✰ ✭ ✰ ✭ ✰ ✭ ✰ ✭ ✰ ✭ ✰ ✭ ✰ ✭
You May Also Like:
Report this resource to TPT
Standards
to see state-specific standards (only available in the US).
Ask and answer such questions as who, what, where, when, why, and how to demonstrate understanding of key details in a text.
Recount stories, including fables and folktales from diverse cultures, and determine their central message, lesson, or moral.
Describe how characters in a story respond to major events and challenges.
Describe how words and phrases (e.g., regular beats, alliteration, rhymes, repeated lines) supply rhythm and meaning in a story, poem, or song.
Use information gained from the illustrations and words in a print or digital text to demonstrate understanding of its characters, setting, or plot.