Engineering Poster Bundle - 6 posters perfect for your STEM classroom!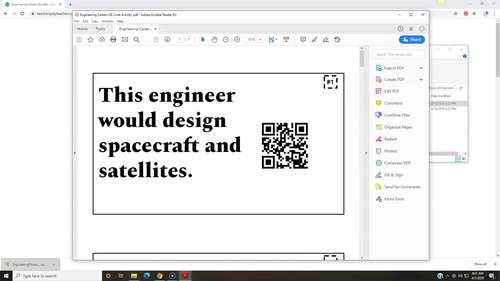 ;
Products in this Bundle (6)
showing 1-5 of 6 products
Description
The walls of your classroom will come alive, and your students will see STEM and engineering through a new lens with this set of six fun engineering posters. Plus, number 2 and number 6 (see below and/or above) feature interactive online engineering career exploration resources - ideal for distance learning! Bundle includes the following posters:
Types of Engineers Poster - 24 careers in engineering with QR code activity!
STEM Career Poster: Mechanical Engineer (distance learning)
Qualities of Engineers Poster
STEM Poster: Top 10 Chemical Engineering Discoveries of Modern Era
Things You Can Do With Coding Infographic - STEM Poster
Future Engineering Careers Posters w/online STEM activities (distance learning)
A must-have for any engineering class!
You might also like...
More Engineering STEM Career Exploration Resources
Want valuable download & go resources to help you effortlessly integrate STEM career exploration? Then get a copy of my FREE Quick Start STEM Career Exploration Kit!
Answer Key
Does not apply
Report this resource to TPT