Eric Carle Author Study- Interactive Notebook/ Flipbook/ Lapbook | Digital Study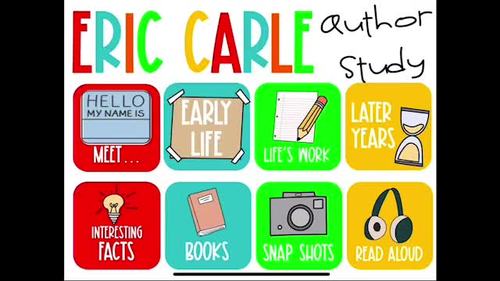 ;
What educators are saying
This was a great resource and perfect for our Eric Carle study. It takes a lot of paper but totally worth it. I cut and preassembled the books for my students.
I used this fun unit of one of our favorite authors as a home unit. I had many parents comment how much fun they had with it! Thanks
Description
NOTE: ALL PRODUCTS ARE 50% OFF IN THE FIRST 24- HOURS THEY ARE LISTED!
IT PAYS $$$ TO FOLLOW ME!

ABOUT THIS PRODUCT
***UPDATE: Added a Digital Author Study on Google Slides to this set.

Check out my new Eric Carle Author Study!
This set was made to use in your interactive notebooks or to create a lap book.
This set includes:
Cover Page
Eric Carle Flaps
All About Eric Carle Interactive Flaps and Foldables
Sorting Pockets with Books
Sequencing Flaps and Cards
Layered Eric Carle Flap Book (Book Activities)
3 Writing Activities
This kit has so much fun and interactive activities that your students will completely love.
Give them an Eric Carle Author Study that they will never forget!!!

HOW TO USE THIS PRODUCT:

GRAB YOURS TODAY!!!

USING DIGITAL PRODUCTS WITH GOOGLE

1. You will need a Google account in order to use this product. If you do not have one you can sign up for one here.
2. Click the Product Link below for your Digital Product.
3. The product will prompt you to Make A Copy, rename the product and save to your Google Drive.
4. You will have to engage most digital products in EDIT MODE. **NOTE (If your product is interactive, you will not be able to move pieces in PRESENTATION/ FULL
SCREEN MODE.)
5. In order to use on an iPad, download the Google Slides app for FREE, and follow the login directions.
6. Have each student Make A Copy and Save before they complete the activity assigned.

DOWNLOADING AND PRINTING TIPS

Some files MAY contain Tabloid Sized (11x17) layouts.
If you do not have a tabloid sized printer you can print professionally at Office Depot, Kinko's, Staples, or a local print shop.
Costs vary for printing (check with your local print shop for pricing)

These are PDF files. Please ensure you have the correct programs to open and use them. If you have any trouble with downloading or printing, please read the help on this page: https://www.teacherspayteachers.com/Help
If you still need troubleshooting, please email support@teacherspayteachers.com and the TPT tech team will be happy to help you.
Larger bundles may be collected in a ZIP file. You can read more about this type of file by clicking HERE.
_________________________________________________________________

FOR MORE GREAT PRODUCTS, SALES, AND IDEAS FOLLOW ME ON...

TEACHERS PAY TEACHERS

LIVE LAUGH TEACH FIRST GRADE

INSTAGRAM

PINTEREST

Check out my new channel "Kids Craftivity Corner with Live Laugh Teach First Grade" on YOU TUBE


GRAB SOME MORE GREAT PRODUCTS BEFORE LOGGING OFF!!

Check out my Most Recent Products

Science Interactive Notebook Over 500 Pages

Math Focus Wall for Pre-k – 3rd Grade

Eric Carle: Author Study Interactive Lapbook

THANKS!!
I give FREEBIES as a way of helping out my fellow teachers. If you download FREEBIES please FOLLOW ME!
__________________________________________________________________

TERMS OF USE
I, Nicole Cantu hold all copyrights for all products, digital products, and freebies offered in my TPT storefront. My work may not be used to create new products or
freebies of any kind. This packet is intended for use in a single classroom. You may not redistribute your purchase to anyone, including uploading it to any website for others to download.
*If you would like to post one of my FREEBIES to your website, please link the product from my TPT Store in order to download. Thank you in advance for following my TERMS OF USE, and supporting my small business. Feel free to share the link to this product listing on TPT

ORIGINAL RESOURCES: ©Nicole Cantu- LiveLaughtTeachFirstGrade
Report this resource to TPT