Essential Workload Forms SLP Data Collection | Speech Therapy | Back to School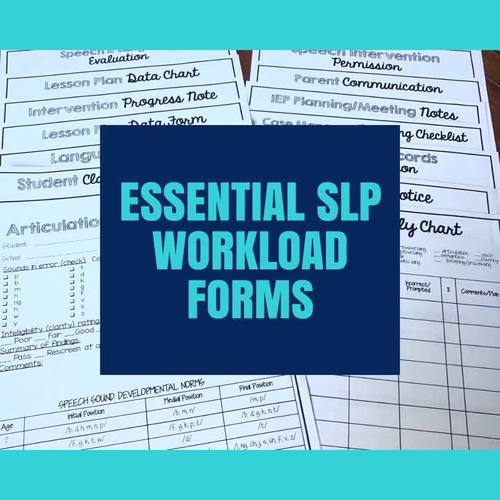 ;
Also included in
Calling all school-based SLPs needing essential materials for back to school! This bundle includes engaging lessons, bulletin board materials, labels, forms, and more.  ⭐️This Back to Speech Bundle includes:Speech Therapy Visuals essential visual supports for speech therapy successBack to Speech Ther

Price $21.18

Original Price $30.25

Save $9.07
Description
Managing workload as a school-based SLP can be overwhelming. These essential forms will help you stay organized and efficient while managing paperwork. This product is a compilation of some of my most used forms.
⭐ NOTE: This resource now has digitally fillable forms using Adobe Reader making it ideal for remote teaching! See the instructions in the READ FIRST file within the Zip File, which still includes the static PDF of all forms.
https://get.adobe.com/reader/

⭐ Check out this bundle for more Back to Speech products: Back to Speech Bundle
This resource includes:
Articulation Screening Review (pgs. 6 & 7, slight variation in wording to meet your needs): Use after screening the articulation skills of students in order to share results with parents and teachers. Includes developmental norms chart.
Review of Records Documentation (pg. 8): Use when reviewing a student's past evaluation/file in order to compile essential information for a record review.
Speech & Language Evaluation (pg. 9): Use during an initial assessment session with students to indicate overall observation of communication skills.
Lesson Plan Data Chart (pg. 10): Use for individual/group lesson plans and data collection.
Lesson Plan Tally Chart (pg. 11): Use for individual/group lesson plans and data collection. Includes two columns for tallying correct/incorrect data.
Lesson Plan Data Form (pg. 12): Use for individual/group lesson plans and data collection.
Intervention Progress Note (pg. 13): Use for individual lesson plans and data collection.
IEP Planning/Meeting Notes (pg. 14): Use during collaboration with teachers/team or during an IEP meeting to record students strengths/needs and plans for intervention.
Parent Communication (pg. 15): Use for parent contact to document communication.
Case Manager Planning Checklist (pg. 16): Use when planning an IEP/other meeting in order to keep track of necessary information.
Speech Intervention Permission (pg. 17): Use for speech/articulation intervention permission.
Screening Notice & Intervention Permission (pg. 18): Use for screening (top half) and for permission, if warranted, for intervention.
Supervision Session Observation & Feedback (pg. 19): Use for supervision of student clinicians in order to provide feedback following therapy sessions.
Student Classroom Observation (pg. 20): Use for observing and documenting speech and language target behaviors within the child's natural environment.
Language Sample (pg. 21): Use for collecting 100 word language samples to chart fluency, articulation targets, or grammatical structures. *THIS FORM IS NOT DIGITALLY FILLABLE.

❤️See what a buyer said about this product

"These are comprehensive but super simple to use! I especially love the supervision observation/feedback page and the artic screening review pages. Those weren't even things I knew I needed! :) Thanks for this!"
★★★★★★★★★★★★★★★★★★★★★★★★★★★★★★★★★★★★★★
Created by Sparklle SLP
Let's keep in touch! You can find me:
on Instagram (@sparklleslp) @sparklleslp
Related Products:
• SLP Planner & Forms ANY YEAR
• Essential Strategies and Graphic Organizers: Speech Therapy, ELA & Math
• Essential Student Visual Supports: Behavior Supports: Speech Therapy
• Essential Visuals for Speech Therapy & Student Success: STRIPS
• Essential Visuals for Speech Therapy & Student Success: SIGNS
Report this resource to TPT