Esther Bible Lessons and Sunday School Unit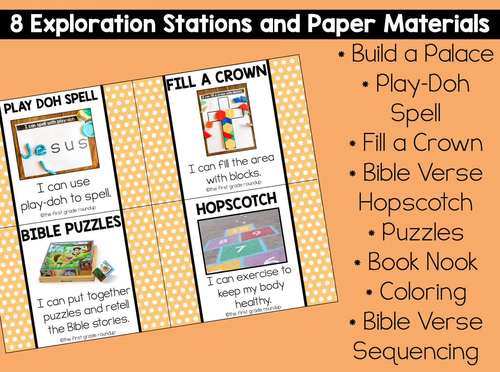 ;
Also included in
If you enjoy any of my Sunday School mini units, then this BUNDLE of Bible lessons for kids will be a perfect addition for your Christian classroom, home or church setting. Each Bible lesson in this year long curriculum is crafted to last about 45 minutes for 1st grade but can be adapted for K-2 ki

Price $65.00

Original Price $82.00

Save $17.00
Description
This first grade Sunday School unit includes Esther Bible lessons to help students understand that God has a special purpose for each of us! It's perfect for the christian education teacher or church volunteer. Each lesson is crafted to last about 45 minutes for 1st graders, but can be easily adapted for K-2
The Ester Bible lessons fall in year 5 of my .
This is part of my
Read about my Sunday School Schedule and see this unit in action.
WHAT BIBLE STORIES ARE INCLUDED IN THIS ESTHER BIBLE UNIT?
Mordecai and Esther
Esther becomes queen
Mordecai at the gate
Haman's plan
Esther helps
Haman's plan to kill Mordecai
The king honors Mordecai
Haman dies
The Jews are saved
INCLUDED IN THESE ESTHER BIBLE LESSONS
• 9 detailed 45 minute lesson plans including bible story scripts, comprehension questions, prayer time, whole group games & activity pages
• Unit poster
• Interactive unit anchor chart
• 8 Exploration Station cards and ideas for each lesson
• Bible story pictures for each lesson: use as visuals to tell the story, print as a book for students to read, or use to sequence and retell the story.
• Writing prompts for each lesson
• Activity pages and answer keys (each lesson has one of the following: word search, I spy hidden pictures, mystery crossword, maze, secret code)
• Bible Verse: poster, parent note, matching/sequencing cards and independent sequencing practice
• Bible verse hopscotch
• whole group game directions and paper materials
• Unit matching cards game
FAQ'S ABOUT THESE BIBLE LESSONS
Where can I find a pacing guide for all of the bible units included for ages preschool through 2nd grade? Download the pacing guide for FREE . The pacing guide includes the unit title, the age group, the big idea, the Bible verse for the unit, and the Bible stories included in the unit.
What Christian perspective is used for these Bible lessons? I am an evangelical Christian and so all units are written from that perspective. They are heavily Bible based and the lesson scripts go verse by verse through the bible story for that lesson.
What translation of the Bible is used? I use a mix of translations to find the most kid-friendly wording for them to memorize. But generally speaking, most Bible verses will be NIV or NLT wordings.
HOW CAN THIS BIBLE STUDY BE USED?
This unit was originally created for my 45 minute Sunday School class. But it is also written with the flexibility to use in a variety of contexts. Here are some of the ways teachers are using these Sunday School units.
Children's Sunday School class (each lesson is 45 minutes)
Bible lessons in a private Christian school setting
Chapel time for Christian private schools
Children's church lessons
Homeschool Bible lessons
Family Bible time with kids
RELATED RESOURCES:
Copyright Whitney Shaddock, 2021, licensed for one classroom use only. Please use the multiple licensing option for more than one classroom use!
Let's Connect:
Report this resource to TPT