Executive Functioning Skills Choice Boards Activities & Worksheets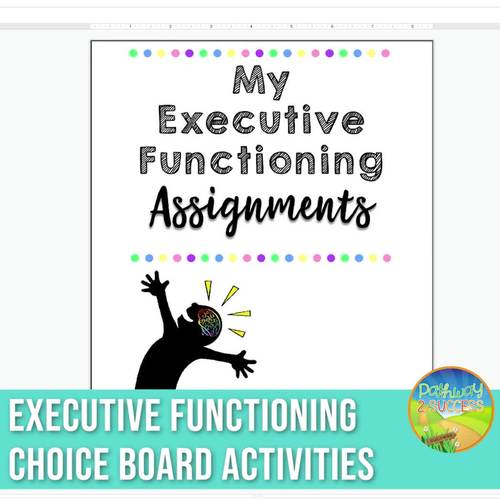 ;
Zip

Google Apps™
12 choice boards + 100 prompts + digital pages
Includes Google Apps™
The Teacher-Author indicated this resource includes assets from Google Workspace (e.g. docs, slides, etc.).
What educators are saying
Great resource! I love that it gives students a variety of options to showcase their thoughts and covers several areas of executive functioning.
I saw a few classes extra times when we shifted online right after winter break. This was a great activity that kept students engaged.
Also included in
Target executive functioning and study skills necessary for academic success at the middle and high school level. The bundle includes over 600 pages full of lessons, templates, and workbook pages to teach study strategies and build executive functioning skills. These resources can provide students w

Price $75.00

Original Price $109.50

Save $34.50
Description
These executive functioning choice boards include 12 unique choice boards filled with activities to practice executive functioning skills, such as organization, time management, attention, and flexibility. Each choice board includes 9 activities, with a variety of tasks from drawing, making lists, writing a letter, creating a poster, and more. This means this resource includes over 100 executive functioning activities for students to complete!
Digital Version
This resource is fully digital, with links to Google Drive for each of the boards and prompts. Have students complete each week's activities on Google Drive and send them right back to you! This makes these choice boards an easy option to help students work on executive functioning goals while at home or through distance learning.
Student Prompt Pages
Student prompt pages are also included, making it easy for students to respond to every prompt and activity!
Sample Choice Board Tasks:
Organization: Spend at least 10 minutes organizing your workspace or materials. Explain what you did.
Self-Control: Describe a positive choice you made today. How did you use self-control to help you?
Planning: Imagine you are in charge of planning a new amusement park. Draw and describe what your park would be named and what it would be like.
Perseverance: Draw a picture of something you want to do someday but haven't done yet.
Time Management: Use your time well to complete a task by leaving your phone and other distractors away for at least 10 minutes. Explain how this worked for you.
Task Initiation: Write a playlist of songs that could help get you motivated to start a task or chore.
How Can I Use Choice Boards?
Assign Tasks: You have complete flexibility in how to assign the activities to your learners. You may choose to assign all nine activities for students to complete throughout the week or have students select a certain number to finish. This also allows for modifications for all students. For example, you may want to assign all nine activities for some students, while assigning only three to others. It is entirely up to you and the needs of your students!
Review Student Work: Once a week (or as you see fit), take time to review student work with your group or class. Go through each activity and discuss it, giving time for students to share their responses. Giving students the opportunity to discuss their work allows extra time to integrate executive functioning skills into their day.
Skills Targeted:
Planning
Organization
Time Management
Task Initiation
Attention
Self-Control
Metacognition
Working Memory
Flexibility
Perseverance

*****************************************************************************
Tips for Customers!
Click here to follow my store!
If you have questions or problems please contact me through Product Q & A and I'll get back to you as soon as I can!
Disclaimer: These resources and materials are for supplementary support/education purposes and not intended as a replacement for counseling, education, or other necessary supports. Educators, parents, counselors, and others who utilize these materials are encouraged to seek out additional support, as needed.
*****************************************************************************
Total Pages
12 choice boards + 100 prompts + digital pages
Teaching Duration
3 months
Report this resource to TPT