Expanding Sentences Using Pictures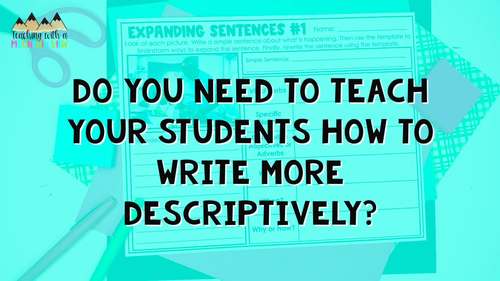 ;
Zip

Google Apps™
Includes Google Apps™
The Teacher-Author indicated this resource includes assets from Google Workspace (e.g. docs, slides, etc.).
What educators are saying
Several of my students have goals for sentence expansion. This has really helped provide the scaffolding they needed. Easy to implement!
I love using this resource with students! It helps push their creativity and make their sentences more interesting!!
Description
No more boring sentences! Your students will absolutely LOVE practicing expanding their sentences to make them more descriptive using this engaging activity. Each page includes a high-interest picture that students describe using a very simple sentence. Using a template, students expand their sentences to make them far more descriptive and interesting!
Expanding sentences to make more descriptive sentences is a skill that will truly take your student's writing to the next level!
This resource includes:
15 pages of practice with pictures
Sample Anchor Chart/Lesson for Expanding Sentences
Digital Access via Google Slides
I have also provided sample simple sentences for students. However, I highly suggest that students pick out their own detail from the picture to write a sentence about.
I encourage students to expand their sentences using specific nouns, vivid verbs, and descriptive adjectives. They then add even more elements using where, when, why/how stems.
A note on grade levels: This resource is VERY easy to differentiate based on the needs of your students. It is a wonderful teaching resource for grades 2 & 3 and amazing practice expanding descriptive sentences for grades 4 & 5.
Please see a preview for a sample of a completed student page!
Answer Key
Does not apply
Report this resource to TPT
Standards
to see state-specific standards (only available in the US).
Demonstrate command of the conventions of standard English grammar and usage when writing or speaking.
Choose words and phrases for effect.
Determine or clarify the meaning of unknown and multiple-meaning words and phrases based on grade 3 reading and content, choosing flexibly from a range of strategies.
Demonstrate command of the conventions of standard English grammar and usage when writing or speaking.
Order adjectives within sentences according to conventional patterns (e.g., a small red bag rather than a red small bag).