Extended Metaphor in Poetry Middle School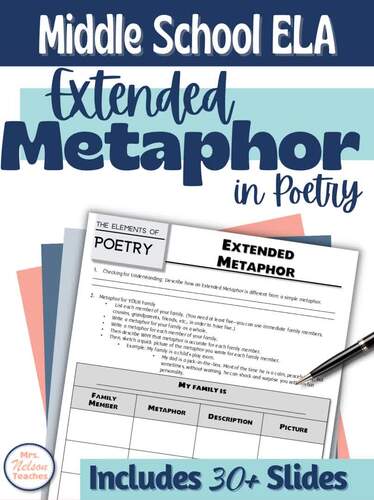 ;
Easel Activity Included
This resource includes a ready-to-use interactive activity students can complete on any device. 
Easel by TPT is free to use!
Learn more
.
What educators are saying
I used this with an eighth grade student for one on one tutoring, and it was really easy and meaningful for her learning.
This resource was really great. It's scaffolded to help students understand what an extended metaphor is, and builds up to a fun assignment that my students enjoyed. It was an easy low prep lesson.
Also included in
Why do we often submit our students to long, dull, (dare I say, torturous) poetry units that they hate? Why not make poetry as fun and exciting as it has the potential to be?This unit does just that! Inside this .pdf file, you will find 10 elements of poetry lesson plans and activities plus a pre an

Price $27.00

Original Price $41.49

Save $14.49
Description
Extend your students' understanding of metaphors with this no-prep, print & go extended metaphor lesson. With ample examples of extended metaphors and a fun, creative activity, this will be a great addition to your poetry unit. With a fun and engaging Google Slides Presentation, middle school students will learn all about extended metaphors and will even be able to write their own with a creative writing assignment.
This lesson includes a class discussion of Maya Angelou's extended metaphor poem, "Caged Bird."
This lesson can be used in a traditional classroom setting OR as a distance learning activity!
What's Included:
General Teacher Guidelines and Instructions
Lesson outline with step-by-step teacher instructions.
Link to Engaging Google Slides Presentation that will guide you and your students through the lesson and the activities.
Creative Writing Assignment
Grading Rubric for Creative Writing Assignment.
Instructions for accessing Google Slides Presentation
Instructions for saving Google Slides Presentation as a PowerPoint Presentation.
Lesson Outlined as Follows:
Extended Metaphor Introduction and Examples
Discussion on How an Extended Metaphor Affects Poetry
Introduce Creative Writing Assignment
Teacher Model/Example
Independent Practice Creative Writing Assignment
This Lesson is also Included In:
Full FUN Poetry Bundle! - Check out the rest of the unit!!
You Might Also Like:
Freak the Mighty Skills-based Novel Unit
The Witch of Blackbird Pond - Complete Novel Unit
Free Stuff!
Did you know that TpT gives you credits towards future purchases when you leave feedback? Your feedback is so important to me as I try to provide the best products possible! Please go to your "My Purchases" page (you may need to log in). Next to each purchase, you'll see a "Provide Feedback" button. Simply click on the button and it will take you to a page where you can give a quick rating and leave a short comment. Thank you so much for providing valuable feedback!
Connect with Me!
Click on the "Follow Me" button on my store page to see all my latest products and updates!
Answer Key
Included with rubric
Report this resource to TPT
Standards
to see state-specific standards (only available in the US).
Cite textual evidence to support analysis of what the text says explicitly as well as inferences drawn from the text.
Determine a theme or central idea of a text and how it is conveyed through particular details; provide a summary of the text distinct from personal opinions or judgments.
Determine the meaning of words and phrases as they are used in a text, including figurative and connotative meanings; analyze the impact of a specific word choice on meaning and tone.
Analyze how a particular sentence, chapter, scene, or stanza fits into the overall structure of a text and contributes to the development of the theme, setting, or plot.
By the end of the year, read and comprehend literature, including stories, dramas, and poems, in the grades 6–8 text complexity band proficiently, with scaffolding as needed at the high end of the range.