Extreme Weather & Natural Disasters [MEGA] Unit bundle with 6 PowerPoints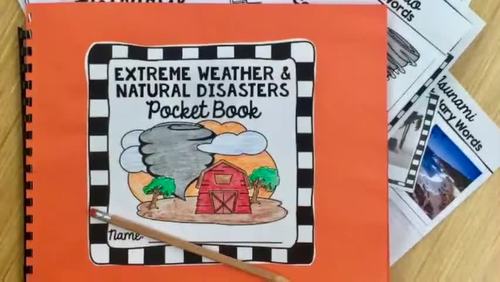 ;
What educators are saying
I loved using this resource! Everything was well organized, easy to use, and I like how there is a writing component for each natural disaster.
Great resource!!!! Very helpful and clear! My students enjoyed working with this resource!!! Thank You?
Products in this Bundle (6)
showing 1-5 of 6 products
Bonus
Assembly Instructions with Pocketbook Label
Also included in
Are you looking for an organized, engaging system to use in your elementary classroom when teaching popular Social Studies and Science topics? Pocketbook Portfolio units are multimodal resources that capitalize on different learning styles amongst students. They include activities that are aimed to

Price $310.27

Original Price $344.75

Save $34.48

Do your students love pocketbook portfolios as much as ours do?! Now you can grab all of our SCIENCE POCKETBOOK UNITS together in one purchase. This huge bundle includes every ELA, Science pocketbook that we have created up to 2/250/2019. 7 Pocketbooks Included! In addition, we are offering this pu

Price $104.75

Original Price $199.75

Save $95.00

**Over 30% off** Extreme Weather & Natural Disaster Distance Learning GOOGLE Classroom unit paired with the PRINT version is perfect for hybrid learning for grades 1-2. Includes 6 separate Google and 6 separate print units! Topics include: Tornadoes, Hurricanes, Wildfires, Tsunamis, Earthquakes

Price $36.00

Original Price $51.00

Save $15.00
Description
Save 30% off with this bundle! A comprehensive mega unit on Extreme Weather and Natural Disasters provides students with multiple opportunities to demonstrate their knowledge of Tornadoes, Blizzards, Hurricanes, Tsunamis, Wildfires and Earthquakes across 6 separate unit plans. It provides all the materials students will need for a systematic, organized method to produce an interactive pocket book, which is an interactive student portfolio containing all the work they have created, serving as an impressive visual reference and comprehensive assessment.
*How to Use page with daily activities
*PowerPoint Presentation
*Student Workbook with comprehension questions: 4 pages
*Colorful vocabulary cards
*Definitions for Vocabulary words
*Vocabulary word flip book with pictures
*Graphic Organizer
*Graphic organizer for writing a paragraph (2 options for handwriting lines)
*Writing paper (2 options for handwriting lines)
*ABC order worksheet
*Word search
*Acrostic poem
*Crossword puzzle
*Vocabulary puzzles (word-definition-picture)
*Photos for an Anchor Chart
*Smart Art writing prompt
For a close look at how to implement this unit, check out this blog post to see it in action!
*Blizzard Unit with PowerPoint
*Hurricane Unit with PowerPoint
*Wildfire Unit with PowerPoint
*Earthquake Unit with PowerPoint
Do you want even MORE Pocketbooks set up in the same format?
Pocketbook MEGA units are up to 40% off regular price!
------------SCIENCE POCKETBOOK BUNDLES------------
→ → ← ←
------------SOCIAL STUDIES POCKETBOOK BUNDLES------------
→ → ← ←
Join our E-Mail list for teaching tips and strategies, giveaways, freebies and more!
Teaching Duration
1 month
Report this resource to TPT
Standards
to see state-specific standards (only available in the US).
Ask and answer questions about key details in a text.
Identify the main topic and retell key details of a text.
Describe the connection between two individuals, events, ideas, or pieces of information in a text.
Ask and answer questions to help determine or clarify the meaning of words and phrases in a text.
Know and use various text features (e.g., headings, tables of contents, glossaries, electronic menus, icons) to locate key facts or information in a text.