Ezra Jack Keats Author Study, Reading Activities in Digital and PDF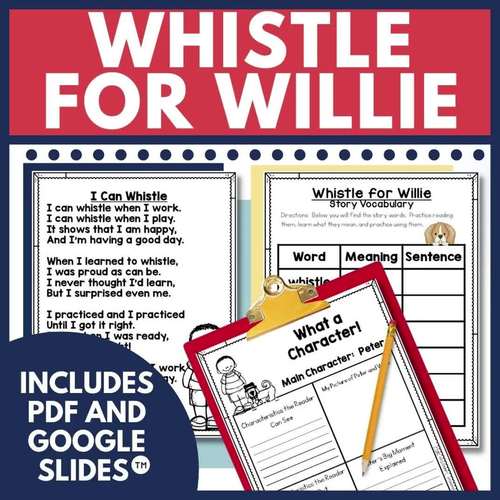 ;
Zip

Google Apps™
200 (1/2 PDF & 1/2 GOOGLE SLIDES TM)
Includes Google Apps™
This bundle contains one or more resources with Google apps (e.g. docs, slides, etc.).
Products in this Bundle (6)
showing 1-5 of 6 products
Description
This Ezra Jack Keats Author Study bundle includes materials for SIX of Ezra Jack Keats most popular books. The activities are just what you need to keep your kids THINKING and LEARNING! Comprehension is the focus, and each unit includes before, during, and after activities for the following titles:
WHAT TITLES ARE INCLUDED IN THE EZRA JACK KEATS AUTHOR STUDY:
Regards to the Man on the Moon
The Snowy Day
Whistle for Willie
Peter's Chair
Goggles
A Letter for Amy
WHAT SKILLS ARE ADDRESSED IN THE AUTHOR STUDY:
schema builders about the themes
vocabulary organizers and word cards
cause and effect
plot (BME)
making connections
making comparisons
character traits
summarizing/retelling
writing about reading
class books
themed projects
questioning task cards and response forms
making predictions
notetaking
HOW THE EZRA JACK KEATS AUTHOR STUDY IS ORGANIZED:
Each unit includes a complete set of lesson materials for instruction. The materials can be used in entirety or to model skills. Be sure to check out the preview to get a closer look. There are OVER 20 pages per title. (TOTAL=~200)
INDIVIDUAL EZRA JACK KEATS UNITS IN CASE YOU WANT A SPECIFIC BOOK:
WHAT TEACHERS HAVE HAD TO SAY ABOUT THIS UNIT:
⭐️⭐️⭐️⭐️⭐️ A Passion for Primary (TpT Seller) says, "I was looking for something different as my author study this year and came upon your unit when looking at Keats as a possibility. I liked what I saw in the preview, but as you know not much can go on the preview. This is so much more that what I thought I was buying. My state standards are quite rigorous in 2nd and this covers every single one of them! I am so happy I bought this and didn't decide to "come up with something on my own". Thanks for such a wonderful resource!!!"
⭐️⭐️⭐️⭐️⭐️ Amanda P. says, "The kids loved this unit! So much fun and helpful for the author study."
⭐️⭐️⭐️⭐️⭐️ Tara G. says, "I bought this before our current situation but it adapted very well in google slides."
⭐️⭐️⭐️⭐️⭐️ Aimee G. says, "Fantastic response sheets and activities for an author study on Ezra!! Thanks!"
Copyright © Comprehension Connection.
Permission to copy for single classroom use only.
Please purchase additional licenses if you intend to share this product.
Total Pages
200 (1/2 PDF & 1/2 GOOGLE SLIDES TM)
Teaching Duration
1 month
Report this resource to TPT
Standards
to see state-specific standards (only available in the US).
Ask and answer such questions as who, what, where, when, why, and how to demonstrate understanding of key details in a text.
Recount stories, including fables and folktales from diverse cultures, and determine their central message, lesson, or moral.
Describe how characters in a story respond to major events and challenges.
Describe how words and phrases (e.g., regular beats, alliteration, rhymes, repeated lines) supply rhythm and meaning in a story, poem, or song.
Describe the overall structure of a story, including describing how the beginning introduces the story and the ending concludes the action.