FEELING CARD GAMES: Emotion Identification, Empathy & Social Emotional Learning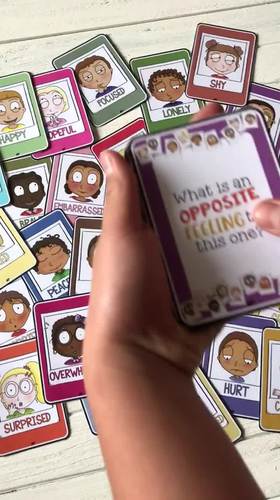 ;
What educators are saying
I used these during our SEL time and also in our class vision posters. Students would refer to them throughout the year. Thank you!
Great resource! Used in my circle time in my Kindergarten class and even used in my Sunday school class of 4-5 year olds! So useful! Thank you so much!
Also included in
Save over 30% with this Feelings and Emotions Bundle. What's Included:✔The Feelings Comic Book for Kids! ✔Multicultural Feelings Posters, Emotion Chart & SEL Activity: Body Language Cues✔Feelings ToolBook: Self-Regulation Coping Skills & Social Emotional Coping Skills✔Feelings Poster✔ Feeli

Price $26.00

Original Price $38.00

Save $12.00

Save tons of planning time and get your students excited about social emotional learning with WholeHearted's Storewide Growing Bundle! Grab over 140 effective and fun counseling and SEL activities and lessons at 50% off. And help your students to build healthy social emotional skills, such as self

Price $272.11

Original Price $544.22

Save $272.11

This social emotional learning mega bundle contains many of WholeHearted School Counseling's SEL games and activities to help children learn, practice, and develop coping skills, self-regulation, social skills, and self-esteem. This SEL Bundle contains some of WholeHearted's top selling resources.

Price $185.00

Original Price $301.25

Save $116.25

What's in this Coping Tools Bundle: Classroom YogaKids Coping Skills: Stress Management SEL Distance LearningDigital Animated Breathing ExercisesSelf-Regulation Coping Skills & Social Emotional Learning BookMindfulness Breathing Exercises for KidsPortable Calm CornerCalm Down CornerDigital Calm

Price $33.00

Original Price $56.25

Save $23.25

Custom Bundle for Rebecca.

Price $37.50

Original Price $58.75

Save $21.25
Description
These Feelings & Emotions Playing Cards helps young people identify feelings, increase their emotional vocabulary, normalize emotions, and build empathy, emotional intelligence, and social emotional learning for others and self.
With at least 7 different games & therapeutic interventions, including "Go Feelings" (Go Fish), "Feeling Match-Up" (Concentration), "Unfeeling Robot" (Old Maid),"Highest Number" (War), Act The Feeling Out (Charades), Feelings Question Cards, and How Might You Feel If..., you are sure to find a format that works best for your students, clients and/or child(ren).
What's Included:
✔ 3 Different Sets of Cards
*Feeling Faces No Text
*Feeling Faces + Feeling Word
*Feeling Faces + Feeling Word + Questions/Prompts
✔ 3 Printing Options: Full Color, Light Color & Black/White
✔ "How Do You Feel?" Bonus Posters
✔ Detailed Instructions on How to Play Card Games (which play similar to Go Fish, Old Maid, War, Charades, & Concentration)
✔ 20 Feeling Question Cards
✔ 48 How Might You Feel Situation Cards
❤️If you like the graphics in this resource and are looking for a new Calm Corner resource, or would like to expand on your already existing one, be sure to check out:
⭐Our Classroom Calm Corner Toolbox
⭐Self-Regulation Coping Tools Desk Reference Name Tags
⭐Trauma Sensitive Classroom Rules and Expectations
Report this resource to TPT