FRENCH How are you feeling? | Comment te sens-tu aujourd'hui? DIGITAL & EDITABLE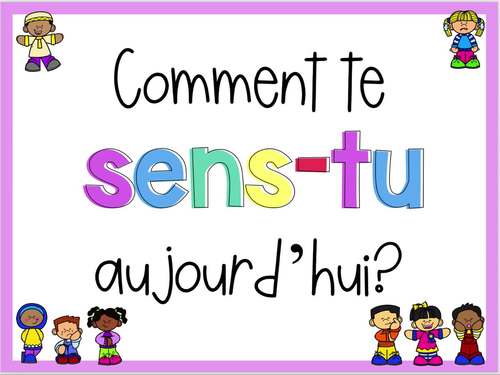 ;
What educators are saying
Great resource! Hoping to use it even more next year to reinforce social emotional learning and have students identify their emotions.
This is a great resource to use as a daily check in with my students. It helps them identify their feelings in French.
Description
UPDATE: Now includes a digital Google Slides option to use during remote learning!
Studies show that when students are able to identify and manage their emotions, they are more resilient and feel a greater sense of belonging.
One thing I like to do is have students talk about how they're feeling during our morning meeting. This way we get to work on oral communication, vocabulary AND build socio-emotional skills all at the same time. I use this Comment te sens-tu aujourd'hui? product where students get to choose the character that most resembles them and then they place it next to the poster saying how they feel.
This year, I may do it a little differently where the student says how they feel and then I'll place their character for them to reduce students touching the same area. These discussions are a great time to practice specific coping strategies, like deep breathing or being physically active, together as a class.
This resource includes:
- A title poster
- 18 different emotions (Je me sens...)
- 60 different student character options
There is an EDITABLE option where you can make your own greeting combinations and a DIGITAL edition.
**You must have Powerpoint to be able to edit the file for the editable version**
****************************************************************************************************************
For a FREE Teacher-Parent Reading Communication resource, sign up for my mailing list!
PS. I'm Jessica from Parfait en Première Année and I'd love to connect with YOU:
Tip: You can earn FREE shopping credits by leaving feedback on products you've purchased!
Here's how: Click My Purchases and click the Provide Feedback button!
Don't forget to click the green star by my name to Follow Me and be among the first to find out when new products and Freebies are added to my store!
Report this resource to TPT