FRESHMAN EXPERIENCE UNITS 1 - 8 [FULL YEAR CURRICULUM] [MEGA-Bundle]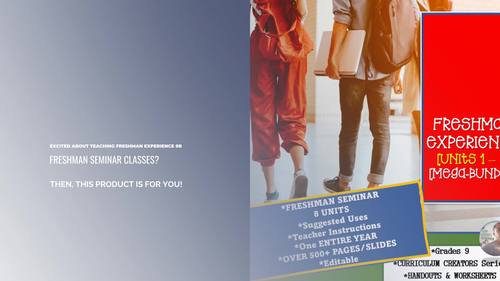 ;
Products in this Bundle (26)
showing 1-5 of 26 products
Bonus
FRESHMAN EXPERIENCE STUDENT AWARDS
Description
This FRESHMAN EXPERIENCE LESSON ACTIVITIES [UNITS 1 - 8] product gives instructors a one-stop place for a whole FRESHMAN YEAR, packed with lots of resources and materials needed to develop a phenomenal FRESHMAN SEMINAR/EXPERIENCE Class. A 500+ Activities and assignments, attached worksheets and handouts, group activities, writing and critical thinking assignments, fun-filled projects, vocabulary lists and more are featured. This editable FRESHMAN EXPERIENCE/SEMINAR LESSON ACTIVITIES allows fledgling or seasoned teachers to start the year off meeting 9th graders needs and easing them into the next 4 years of their lives!
1. A 500+ pages to ease 9th Graders into High School
2. 80+ Thought-provoking Journal prompts
3. Fun Age-Appropriate Projects, prompts, and assignments
4. All Editable Slides for personalized instruction
5. Vocabulary and Stock Language Activities
6. A 250+ page TEACHER'S GUIDES
7. PowerPoint Weekly Agenda Templates
8. ****FREEBIE: How To Make a Unit Plan YouTube Video ****
9. Language Ladder Worksheets
10. Articles and Online Research Activities and much, MUCH more
You may also appreciate:
FRESHMAN EXPERIENCE LESSON ACTIVITIES [UNITS 1 & 2]
FRESHMAN EXPERIENCE TEACHER'S GUIDE [UNITS 1 & 2]
FRESHMAN EXPERIENCE LESSON ACTIVITIES [UNITS 3 & 4]
SECONDARY GET-TO-KNOW-YOU YEAR-ROUND BINGO AND GAMES
Hey guys, I'm Richard Williams, The Angry Teacher. I've been teaching for 18+ Years , and have amassed quite a bit of knowledge to share. Please consider joining the Angry Teacher family; we'll enjoy having you in the fam!
FIND ME ON THESE SOCIAL MEDIA PLATFORMS:
Please consider checking out the other short story materials and resources in my store.
Also, guys, remember that leaving REVIEWS is a way that TpT gives you credit on products! So let's do it!
Thanks for stopping by!
Report this resource to TPT
Standards
to see state-specific standards (only available in the US).
Cite strong and thorough textual evidence to support analysis of what the text says explicitly as well as inferences drawn from the text, including determining where the text leaves matters uncertain.
Determine two or more themes or central ideas of a text and analyze their development over the course of the text, including how they interact and build on one another to produce a complex account; provide an objective summary of the text.
Analyze the impact of the author's choices regarding how to develop and relate elements of a story or drama (e.g., where a story is set, how the action is ordered, how the characters are introduced and developed).
Determine the meaning of words and phrases as they are used in the text, including figurative and connotative meanings; analyze the impact of specific word choices on meaning and tone, including words with multiple meanings or language that is particularly fresh, engaging, or beautiful.
Analyze how an author's choices concerning how to structure specific parts of a text (e.g., the choice of where to begin or end a story, the choice to provide a comedic or tragic resolution) contribute to its overall structure and meaning as well as its aesthetic impact.