FULL YEAR Science and Social Studies Inquiry Units | Ontario Grade 5 Curriculum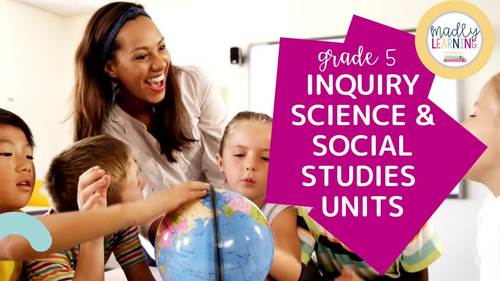 ;
What educators are saying
This is a great resource to use! So far the activities are engaging for my students even though it's content heavy for my learners.
Products in this Bundle (6)
showing 1-5 of 6 products
Also included in
This bundle includes both in-class inquiry units and digital supplementary activities. Be ready for any teaching situation in 2020/2021 and know that you are covered. This resource includes both digital and in-class inquiry units on the following topics. Social Studies Grade 5Government of CanadaI

Price $116.39

Original Price $150.39

Save $34.00
Description
This grade 5 science and social studies bundle for Ontario classrooms includes all FOUR science units and both social studies units that cover the entire Ontario curriculum for the whole year. This bundle includes the units Human Body, Forces Acting on Structures, Energy Conservation, Matter and Materials, Interactions of Indigenous People and Early European Explorers, and The Government of Canada and Its People.
These units are designed to meet the expectations for the 2018 Ontario Gr. 5 Social Studies and Science curriculums. Each unit is designed with inquiry in mind and includes inquiry activities and projects. Lessons are easy to follow and the activities are easily differentiated for a range of learners.
This Bundle Includes
Properties of and changes in matter
Interactions of Indigenous Peoples and Europeans
************************************************************************
Activities Include
Detailed lesson plans to teach both grades together.
Task Cards
Wonder Wall Provocation Cards (great to start off you inquiry)
Games for Students
Hands on Science Experiments
Background Notes for the Teacher
Interactive Notebook Reflection activities
Original NonFiction Texts to support student learning
Final Inquiry Project
Answer pages
Student Research links (Access to technology for this component of the product is highly recommended)
***************************************************************************
strong>See my other Bundles
*****************************************************************************
• Look for the green star next to my store logo and click it to become a follower. Voila! You will now receive email updates about this store. ☺
*****************************************************************************
Report this resource to TPT