Fahrenheit 451 Unit Plan, Literature Novel Guide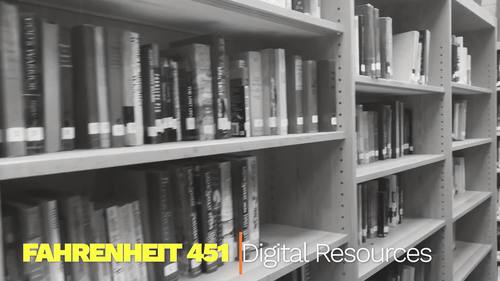 ;
Zip

Google Apps™
Includes Google Apps™
The Teacher-Author indicated this resource includes assets from Google Workspace (e.g. docs, slides, etc.).
What educators are saying
The close reading activities were really beneficial. They pulled key passages from the novel for students to practice annotating and studying passages carefully, AND they saved me so much time!
This is an awesome resource! I really liked that the activities are varied and engaging. F451 is a challenging book to teach and read, but this resource made my life easier. Thank you!
Description
This low prep, standards-based, complete Fahrenheit 451 unit plan is designed to take your students through Fahrenheit 451 in a way that the novel comes alive. Fahrenheit 451, while a classic, is one of the most relevant novels of all time - it offers a clear warning to a culture lost in its technology and emptiness and on the brink of destruction. Its narrative is one that certainly speaks to teens today, and this complete literature guide is the product of classroom experience and has been years in development.
Student Experience: Students study and dig into the text with the carefully crafted questions on the active reading guides, and you will be confident that key standards are being addressed. From the modern connections provided such as a Twidder summarizing exercise to the informational text readings that bring in the scientific side of the novel, students will recognize the importance of this classic text as critical in their world. Various other interactive, hands-on, and creative activities will provide you with many ways to engage your students and have them take ownership of their own learning in this four to five week unit plan. All the basics are here, too: reading quizzes, grammar worksheets, journal prompts, vocabulary, final exam, and final project prompts. You can use it all or just use some. This literature guide in its entirety touches every CCSS writing standard, many literature and info text standards, digital media standards for speaking and listening, and several language standards. Each resource is matched with its standards throughout the pack.
Included:
- unit overview with contents and essential questions and daily pacing guide (1 month) in printable and digital for Google format
- active reading graphic organizers with answers, 100% editable PPT and e-worksheet format for Google
- vocabulary lists, sentences, quizzes, answers 100% editable
- three grammar exercises with answers, 100% editable
- frequently confused words practice with answers, 100% editable
- allusions match up, answers
- reading quizzes with answers, 100% editable and self-checking digital with Google)
- journal/discussion prompts, 100% editable
- picture symbolism writing prompts, 100% editable
- mythology mini lessons
- three info text lessons (history of book burning, fire, and memory)
- two poetry lessons (Arnold and Blake)
- two short research and presentation media projects (censorship which is perfect for Banned Book Week and predictions) 100% editable
- three close reading exercises (PDF and digital for Google)
- pre-reading activities
- final exam, 100% editable
- interactive review activities with answers
- final project menu boards, 100% editable
- three classroom posters
- characterization worksheets (PDF and digital for Google)
- figurative language with answers, 100% editable
- fire tracker, editable and digital for Google
- three coloring by number pages to review quotes, plot, and figurative language
See more about how I teach this novel:
- Blog Post (451 Movie Review)
- Instagram (Tour My Unit Guides)
- Blog Post (What not to miss when teaching 451)
Classroom success stories from other teachers who have tried this resource:
♥ "Love everything!! Helps keep me organized! The students loved the activities and really forces higher level thinking."
♥ "Purchased based on seller- did not disappoint. Engaging and straightforward enough for a first-time teacher but new creative ideas for the veteran teaching this several years."
♥ "Julie creates some great resources. This unit was a great addition to my lessons for this novel and helped "spice things up."
♥ "This unit was a LIFESAVER. Very thorough. A large variety of different activities you can use to promote deep-level thought and discussion. Thank you!"
♥ "This is a fantastic resource! This is my first year teaching Fahrenheit 451, and I can already tell that this will truly be a life saver. I know I will be able to use everything. It's so well organized and it allows students to analyze the novel deeply."
♥ "Plenty of great information is found in this unit. I really like the close reading and active reading graphic organizers; they are very helpful! The poetry connection activities are also great."
♥ "I love teaching Fahrenheit 451, but I needed some new resources! I was falling into the reading/questions about reading rut and wanted some more interactive and exploratory activities. This unit plan comes with a TON of awesome graphic organizers, activities, and slide shows. We've started a response journal and I'm excited to read their feedback to the writing prompts included. Thank you SO MUCH!"
♥ "Once again Julie exceeds the standards! I am excited to use this in my class. Plan to use it for my book circles!"
♥ "This resource aligns with the higher level thinking I want my students to do about the text, elements of literature, and connections to their lives! I have created assignments that are similar, but these are graphically engaging and present a cohesive unit from beginning to end! As always, another great product from this seller!"
After you finish your Fahrenheit 451 unit, have a fun recap with my Fahrenheit 451 escape game (sold separately here).
Interested in more of my literature units?
Be the first to know about my new discounts, freebies and product launches. Look for the green star next to my store logo and click it to FOLLOW ME. Presto! You will now receive email updates about my store.
For more ideas and inspiration:
Julie's Classroom Stories on Instagram
Julie's Classroom Stories on Facebook
Teaching Middle and High School English Facebook Group
Yearbook and Journalism Facebook Group
Email List for Yearbook Advisers
Email List for English Teachers
Terms of Use: Created by Julie Faulkner 2016, updated 2022
Please, one classroom use only. Additional licenses are sold at checkout. This license is nontransferable. Not eligible for online environments unless password protected. Posting openly online is prohibited. No part of this resource can be used for commercial purposes, altered, or resold. This work is my original work, and taking portions of it to create something else for resale is prohibited. Original Cover Photography by Julie Faulkner Photography
Teaching Duration
1 month
Report this resource to TPT
Standards
to see state-specific standards (only available in the US).
Read closely to determine what the text says explicitly and to make logical inferences from it; cite specific textual evidence when writing or speaking to support conclusions drawn from the text.
Determine central ideas or themes of a text and analyze their development; summarize the key supporting details and ideas.
Analyze how and why individuals, events, and ideas develop and interact over the course of a text.
Analyze the structure of texts, including how specific sentences, paragraphs, and larger portions of the text (e.g., a section, chapter, scene, or stanza) relate to each other and the whole.
Assess how point of view or purpose shapes the content and style of a text.