Fake News Quiz | Evaluating Sources Online | Test | Assessment | Media Literacy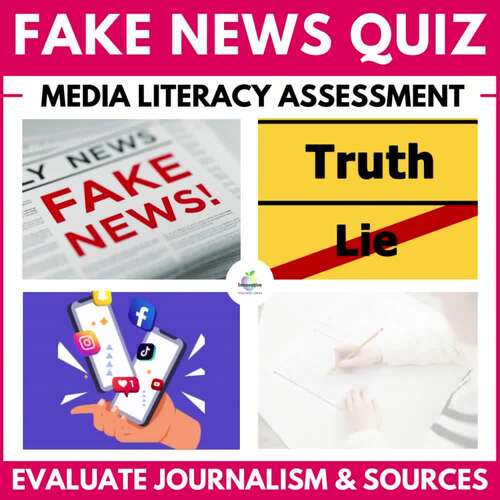 ;
7

th

- 10

th
,
Higher Education
What educators are saying
Good resource to for students to understand that they may need to actually think about where/how they get their information.
This is such an essential lesson for students. The ideas thought in this lesson should be required for every learner!
Description
Assessing MEDIA LITERACY Skills in 2023 is essential. Test your student's ability to identify FAKE NEWS, POOR JOURNALISM, and EVALUATING SOURCES and DATA with TWO SEPARATE FAKE NEWS QUIZ tests.
⭐Test # 1:
Is a Ten-question paper-based NO-PREP ASSESSMENT TOOL about the Post-Truth media cycle that will assess your student's ability to evaluate data beyond just the "sniff test" to identify false and misleading information. A traditional written test that is quick and easy to assess.
⭐Test #2:
Is a 14 Question WHOLE CLASS interactive test that a teacher can run on a CLASSROOM SCREEN or INTERACTIVE WHITEBOARD question-by-question that students could correct themselves if required.
Both tests come with ANSWER KEYS to provide quick and easy feedback and inform future teaching and learning direction. They can be a great pre and post-assessment task option as well.
This HIGHLY RATED TpT resource will not disappoint as it is relevant and engaging to students.
YOU MIGHT ALSO❤️VE THESE ENGLISH RESOURCES
❤️ Year-Long Visual Writing Prompts Collection
❤️ News and Media Literacy Bundle
❤️ 125 Guided Reading Activities for ANY BOOK
❤️ 101 Digital Graphic Organizers
⭐LET'S CONNECT
Innovative Teaching Ideas on YouTube
Innovative Teaching Ideas on Facebook
TERMS
Copyright © Innovative Teaching Ideas. All rights reserved by the author. This product is to be used by the original downloader only. Copying for more than one teacher, classroom, department, school, or school system is prohibited. This product may not be distributed or displayed digitally for public view. Failure to comply is a copyright infringement and a violation of the Digital Millennium Copyright Act (DMCA). Clipart and elements found in this PDF are copyrighted and cannot be extracted and used outside this file without permission or license. Intended for classroom and personal use ONLY. See the product file for clip art and font credits.
Teaching Duration
30 minutes
Report this resource to TPT