Fake News Unit | Critical Thinking | Media Literacy | Fact Analysis & Research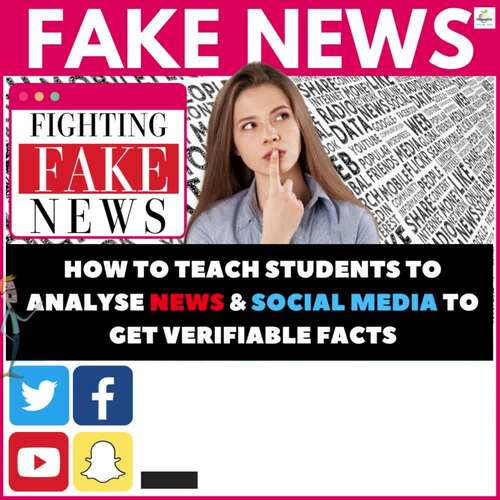 ;
Zip

Google Apps™
Includes Google Apps™
The Teacher-Author indicated this resource includes assets from Google Workspace (e.g. docs, slides, etc.).
What educators are saying
So helpful in making students think about what they are watching and hearing. This helps them ss not everything is real and they need to evaluate
This lesson was by far one of the most successful yet I have used on TPT. Even my least motivated students were extremely engaged with this activity. I am proud of their final work.
Also included in
This collection brings together 4 of our MOST POPULAR and valuable resources at a DISCOUNTED RATE, providing students with CRITICAL THINKING SKILLS in LITERACY from various perspectives.Be sure to take a look at each in detail to learn about each and READ THE GLOWING REVIEWS for yourself. You will

Price $25.46

Original Price $42.00

Save $16.54

We have bundled together FIVE of our MOST POPULAR MEDIA LITERACY resources to ensure your students can CONSUME all forms of NEWS as CRITICAL THINKERS and CREATE their own news reports and MEDIA PUBLICATIONS by using correct literacy protocols and PROVEN TEACHING STRATEGIES.This is a MUST-HAVE in 202

Price $21.21

Original Price $42.40

Save $21.19

This bundle combines our top-selling MEDIA LITERACY (competencia mediática) units in SPANISH and ENGLISH formats, designed to teach the essentials of using Google Search (Búsqueda de Google) and identifying Fake News. (Noticias Falsas)These are essentially modern-day life skills for students and tea

Price $18.50

Original Price $37.00

Save $18.50

This bundle contains our top 10 English, Reading, and Writing resources for grades 5 and 6 students. Packed with 1000+ pages over ten complete work units with hundreds of 5-star reviews at a heavily discounted rate.If you are a first-time grade 5 or 6 teacher, or a seasoned veteran, these resources

Price $89.95

Original Price $135.95

Save $46.00
Description
Teaching students to navigate news and information on mainstream, traditional and social media as critical thinkers is an essential skill for 2023. It is becoming increasingly difficult to separate FACTS and OPINIONS, SATIRE from LIES, and PERSUASION from PROPAGANDA in the "MISINFORMATION:" era
A well-grounded understanding of MEDIA-LITERACY is crucial in stopping FAKE NEWS and RADICALIZATION. And This PROVEN resource will teach your students the skills to identify, analyze and critique information through proven research and fact-checking strategies to smell a rat and expose it when they see it.
THIS ENGAGING UNIT COVERS:
✅ Fake News
✅ Bias 
✅ Clickbait
✅ Rumors
✅ Satire
✅ Social Media, algorithms and technology
✅ Research Skills
✅ Fact Checking beyond Google and Alexa
COMES IN DIGITAL & PRINT PDF - NO PREP REQUIRED
THIS RESOURCE INCLUDES
⭐ An EDITABLE PowerPoint Presentation enough to fill an engaging lesson with a mix of activities.
⭐ 4 INDEPENDENT one-hour follow-up activities designed to reinforce and further explore fake news's production, impact and implications.
⭐ A collection of fake news resources to further expand your understanding of fake news.
Related Products
☀️ How to use GOOGLE SEARCH like a BOSS!! (Research Skills & Digital Citizenship)
☀️ The evolution of a great idea worksheet (Research Tool)
☀️ Digital Graphic Organizers / Digital Notebooks (Google Classroom & PowerPoint)
☀️ Essay Writing Task: Mobile Phones in Schools (Argument / Discussion)
TEACHERS LIKE YOU SAID THIS...
⭐⭐⭐⭐⭐ Merissa V. says... "This lesson was by far one of the most successful yet I have used on TPT. Even my least motivated students were extremely engaged with this activity. I am proud of their final work."
⭐⭐⭐⭐⭐ Lana P. says... "The resource was great for examining fake news for our English and Conspiracy Theories class. As students have to evaluate the websites they use, it clearly outlined a process they can understand. As we are in New Zealand, it was helpful that the resource was editable, so I could include local content."
⭐⭐⭐⭐⭐ Koby, M says... "Used this when my students were preparing for a presentation, where the facts they had to share were required to be true and accurate. Many of my students were also sharing false facts on other topics so this was a good resource to stop incorrect news from being shared."
This TpT Top Seller will not disappoint when it comes to providing a nice balance of direct instruction and freedom to let students personalize their learning due to the range and diversity of resources and lesson content.
YOU MIGHT ALSO❤️VE THESE ENGLISH RESOURCES
❤️ Year-Long Visual Writing Prompts Collection
❤️ News and Media Literacy Bundle
❤️ 125 Guided Reading Activities for ANY BOOK
❤️ 101 Digital Graphic Organizers
⭐LET'S CONNECT
Innovative Teaching Ideas on YouTube
Innovative Teaching Ideas on Facebook
TERMS
Copyright © Innovative Teaching Ideas. All rights reserved by the author. This product is to be used by the original downloader only. Copying for more than one teacher, classroom, department, school, or school system is prohibited. This product may not be distributed or displayed digitally for public view. Failure to comply is a copyright infringement and a violation of the Digital Millennium Copyright Act (DMCA). Clipart and elements found in this PDF are copyrighted and cannot be extracted and used outside this file without permission or license. Intended for classroom and personal use ONLY. See the product file for clip art and font credits.
CUSTOMER TIPS:
How to get TPT credit to use on future purchases:
• Please go to your My Purchases page (you may need to
login). Beside each purchase, you'll see a Provide Feedback button. Simply click it, and you will be taken to a page where you can give a quick rating and leave a short comment on the product. Each time you give feedback, TPT gives you feedback credits to lower the cost of your future purchases. I value your feedback greatly as it helps me determine which products are most valuable for your classroom to create more for you. ☺
Answer Key
Does not apply
Report this resource to TPT
Standards
to see state-specific standards (only available in the US).
Determine two or more main ideas of a text and explain how they are supported by key details; summarize the text.
Explain the relationships or interactions between two or more individuals, events, ideas, or concepts in a historical, scientific, or technical text based on specific information in the text.
Analyze multiple accounts of the same event or topic, noting important similarities and differences in the point of view they represent.
Draw on information from multiple print or digital sources, demonstrating the ability to locate an answer to a question quickly or to solve a problem efficiently.
Integrate information from several texts on the same topic in order to write or speak about the subject knowledgeably.