Fall Music Class Lesson Bundle: Videos, Songs, Games, Kodaly, Orff K-6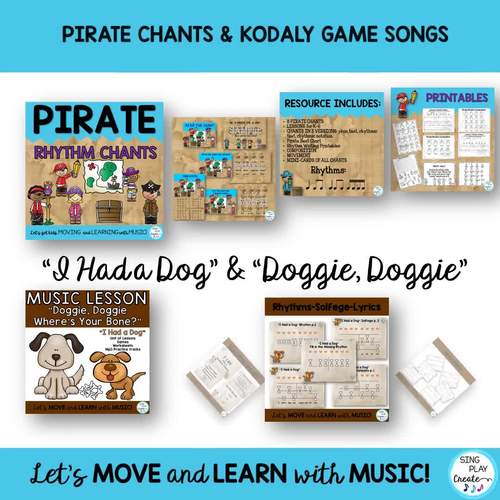 ;
Products in this Bundle (5)
Bonus
FALL MUSIC LESSON RESOURCE GUIDE
Also included in
­­­­­­­­­­­­­­­­­­­­­­­­­ Distance Learning MaterialsElementary Music Resources and curriculum with lessons and activities for the entire school year. Orff, Kodaly, Standards based music lessons for grades K-6. Imagine having music lessons for the entire school year for the general music classroom?

Price $320.13

Original Price $355.70

Save $35.57

Distance Learning Materials!Elementary Music Resources + Year Long Music Lessons K-6 BUNDLE is for Elementary music teachers who need a core set of materials for their general music program. The elementary music resources and YEAR LONG MUSIC LESSON BUNDLE provides an interactive music curriculum w

Price $357.30

Original Price $397.00

Save $39.70
Description
Fall Music Class for your K-6 students can be filled with students singing songs, playing games, instruments, composing, improvising in your Music Classroom using these interactive music lessons. The Fall Music Class Lesson Bundle includes 6 Resources with a variety of lessons, Mp3 Tracks, VIDEO and animated power point resources and in addition to worksheets to teach Music Education Standards. K-6
OVERVIEW:
This bundle includes 6 resources that you can use to establish your core music curriculum during Fall months. Lessons can be adapted from Grades K-6. The Teacher Resource Guide provides an outline of the resources and planning pages for you to use these resources in your current music curriculum.
RESOURCES INCLUDED:
K-3: "Leaves Are Falling All Around"
K-3: Fall Vocal Explorations
1-4: "Five Little Acorns"
K-3: "Doggie, Doggie" Where's Your Bone
2-6: Pirate Rhythm Chants and Activities
CONCEPTS INCLUDED IN THE BUNDLE:
Melody
Rhythm
Ostinato
Pitch
Singing
Playing Instruments
Creating
Composing
Creative Movement
Improvisation
So-la-mi-do
Play parts
Ostinato
Quarter, half, eighth notes
DETAILED RESOURCE DESCRIPTIONS: Please view the video previews for each resource.
This easily adaptable set of resources gives you the tools to teach music concepts to different grade levels per your teaching needs. It's a perfect Fall Lesson to bring together your pitch, melody, rhythm, creative movement and improvisation goals. It's also a wonderful way to assess students.
Using a video to teach enables you to have smooth transitions in your lesson. The video provides the visual and aural cues as you guide students from playing the beat to tapping rhythms, singing solfege and finally singing the song.
PIRATE CHANTS: K-6 MUSIC ACTIVITIES
CONCEPTS:
Quarter, eighth, sixteenth notes
Composition
Movement
Body Percussion
Rhythm Creating
Play Rhythms
PIRATE CHANTS: K-6 MUSIC ACTIVITIES
CONCEPTS:
Quarter, eighth, sixteenth notes
Composition
Movement
Body Percussion
Rhythm Creating
Play Rhythms
Resource Includes:
• Concepts:
• mi-so-la (do)
• Quarter, eighth notes and quarter rest
• Creative Movement
• Playing instruments, rhythms, melody
• Sheet music
o Orff Arrangement- Notes & Note Names
o Melody-Solfa, Note Names, Notes
o Bass-Note Names, Solfa
o Rhythm parts
• Printable for Rhythm writing
• Teaching and Creative Movement Activity Directions
• Mp3 Vocal and Accompaniment Tracks
• Power Point
• PDF Files
• Video for teaching Beat, Rhythm, and Melody solfege, lyrics
o (All pictures and pages are included in the PDF and Power Point files-this way you can choose how you want to use the resource in your classroom.)
Music Lessons "Five Little Acorns" Kodaly and Orff VIDEOS Unit
Resource Includes
Kodaly Rhythm, Singing and Playing Bundle "Five Little Acorns" an Original Song
6 lesson plans and performance idea
Sheet music with directions
Game and directions
Orff -Rhythmic and Melodic Ostinato, Accompaniment
Rhythmic Teaching & Practice for ti-ti, ta, taa
Kodaly melody mi, sol, la and do
Printables-Melody, Rhythm, Writing Rhythms
Flash Cards-Acorn and Rhythmic
I can statements for individual goals
and combined goals.
I Had a Dog", "Doggie, Doggie" Kodaly and Orff Lessons
CONCEPTS:
mi-so-la
half notes (or LONG and SHORT)
Singing and Playing Notes (staff notes included on the sheet music)
Ostinato
RESOURCE INCLUDES:
Lesson Plan Outline for 6-8 lesson IDEAS
2 Songs
3 Games
6-I Can Statements
Rhythm practice
mi so la Melody Notes
Melody Ostinato
Rhythm Ostinato
Fill in the blank rhythm activities.
2 note and rhythm writing worksheets
*Sheet Music for each song:
sight sing, solfege, lyrics, note names
Mp3 Practice Tracks
RESOURCE INCLUDES:
Concept: PITCH
PDF and Power Point File
Animated Power Point
18 pages that show various vocal explorations with apples.
11 Blank slides for you to draw on your white board, Dot cam or SMART board.
3 Composition Printables for students to create Their own vocal explorations and share with the class or at home.
Puppet template to make an exploration puppet.
MUSIC EDUCATION LINKS:
***********************
ABOUT SING PLAY CREATE LLC.
All products and works are copyrighted by Sing Play Create LLC. Buyers may get Free store credit by going to "my purchases" and click on "Provide Feedback". Ratings and helpful feedback are welcomed.
Want a Freebie every month?  Subscribe to my Website Newsletter.
QUESTIONS? Please use the "Ask a Question" section of my TpT store. Or, you can email me at sandra@singplaycreate.com
CONNECT WITH ME HERE:
Thanks for stopping by!
Sandra
Report this resource to TPT