Fall Vocabulary - What am I? Guessing Game | Digital Google Slides™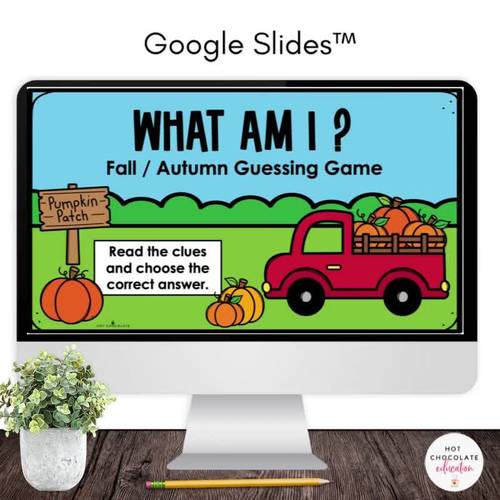 ;
PDF

Google Apps™

Internet Activities
Includes Google Apps™
The Teacher-Author indicated this resource includes assets from Google Workspace (e.g. docs, slides, etc.).
Description
The object of this digital Fall Vocabulary Guessing Game is for students to use the hints provided on each Google Slide™ to guess which noun is being described. This is a great whole class activity that uses descriptive language and basic inferencing to get students involved and actively reading, listening and using deductive reasoning skills.
Make sure they tell you "why" they chose their answer.
After each hint slide there is an answer support slide which shows the answer and spelling to further support vocabulary building.
This file downloads to Google (you will be prompted to make a COPY)
Use the 20 hint slides and 20 answer slides in presentation mode to engage your entire class.
Directions
Check out some other Grammar Games!
Check out some other Vocabulary Games!
Check out some Best Selling ELL Resources in $$ Saving Bundles!
Check out some of my Conversation Starters!
__________________________________________________________________
Please go to your page (you must be signed in). Next to each purchase you'll see a button. Just click it and you will be redirected to a page where you can give a rating and leave a comment for each purchase . Each time you give feedback, TPT gives you feedback credits that you use to lower the cost of your future purchases. I love hearing from you as your feedback helps me improve my resources to fit the needs of teachers all over the world!
Report this resource to TPT