Famous Pairs in World History Matching Game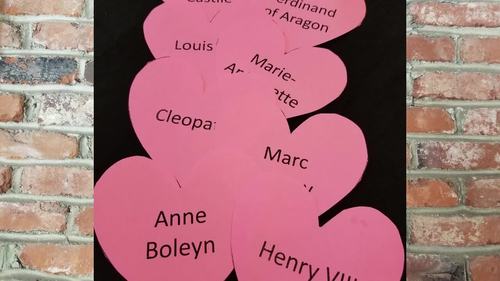 ;
Also included in
Famous Pairs and Couples in World History Matching Games combines my two themed matching games. Celebrate Valentine's Day and St. Patrick's Day with a quick and fun matching game that supports your world history studies!Students should complete the matching games and then continue by engaging in dis

Price $3.15

Original Price $4.25

Save $1.10

Whether you teach both European history or World history or you just want as many prompts as possible, this bundle is an awesome resource to have on hand. Some of the prompts in the European history and world history products are the same so please note, you will not be getting 84 entirely different

Price $6.05

Original Price $8.50

Save $2.45
Description
Famous Pairs in World History Matching Game combines for a fun and quick game that is designed for both middle school and high school learners.
The famous pairs are not always couples. Some are people who are linked forever in history. Some are people and their inventions or their writings. After students have completed the memory game portion have students complete assignments for each one.
For example, one of the pairs is the Silk Road and its match Diffusion. Students can write or discuss how ideas, knowledge, and religion spread across the nations within the Silk Road and how those concepts diffused into the new cultures.
This game set includes a Valentine's Day theme, St. Patrick's Day theme, as well as a regular square design for use on any other day.
Updated to include a Fall theme Bonus File!
Middle school and high school students want to enjoy the fun of a themed school too. Print these on color paper, cut and go!
The prompts are the exact same for each theme. I like to assess students continually on the same exact material which gives them a chance to remember and recall. Memorization has a bad reputation but is actually an important skill that helps students succeed in higher-level thinking skills. If they can't remember the low-level information, they will never get the higher-level stuff.
*******************************
What's Included:
30 Valentine's Day themed prompts
30 St. Patrick's Day themed prompts
30 square shaped prompts
BONUS Fall theme (same prompts)
*******************************
Answer key is integrated in the resource - just look at the uncut pages. The prompts are side by side with their matched pair.
This lesson would also be perfect with Famous Couples in World History. Consider bundling them for lots of themed fun!
Teach European history too? Check out Famous Pairs in European History or Famous Couples in European History.
Remember, TpT gives you credits towards future purchases if you leave a review!

If you are unable to leave a 5-star review, please let me know and I will see if I can accommodate you.

Follow my store above! I add new products often and throw sales randomly. You wouldn't want to miss out.
Report this resource to TPT