Fast and Focused Feedback: Grade essays faster and provide focused feedback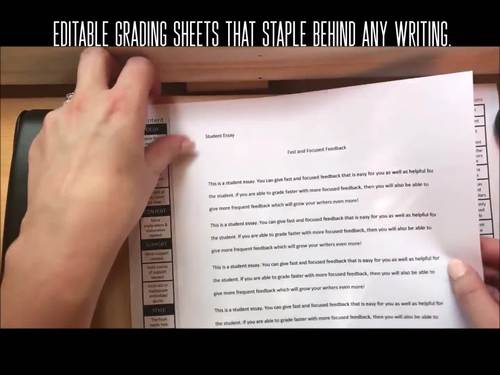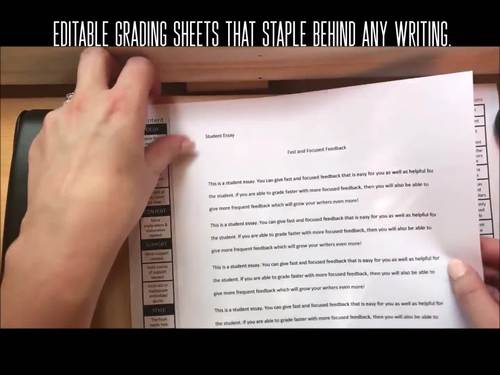 Created By
Building Book Love
Product Description

Standards
Whether you are grading essays online or in print, this resource will help you mark essays faster while providing your students better feedback. This essay grading method has changed my grading life by shaving hours off of my grading time. Not only has it benefited me, but it has also provided my students with more focused feedback so that they can improve upon their individualized writing weaknesses. I have made this resource completely editable so that you too can set up an essay grading system to save time and give more effective feedback.
You will get:
⭐A horizontal editable grading sheet that students attach to the back of their essay
⭐ 29 editable mini-lessons that provide both written and video instruction on content and grammar issues (the best videos from YouTube are used for the video lessons, but you could eventually create your own to edit in)
⭐ 16 Self-grading Google Form Quizzes that direct students to work on their individualized grammar errors. These quizzes are designed to mimic the ACT Language section, so students are able to advance their ACT knowledge while correcting their grammar mistakes within their essay.
⭐ An interactive bulletin board that can be used for in-class direct instruction during essay writing
⭐ A digital interactive board so that students can take their mini-lessons on the go!
⭐ A bonus master class teaching you how to best incorporate peer review stations to save even more time grading while helping your students improve!
⭐A bonus peer review station template
⭐A bonus writing guide that students can use to self-assess their own writing (NOT EDITABLE)
⭐ Video directions for how to edit and use your Fast and Focused Feedback
WHAT'S NOT INCLUDED:
⚠️A writing rubric. I personally believe in using the same writing rubric that students will see on their state writing test so therefore I did not include a universal rubric in this resource
⚠️ An EDITABLE Flash Writing Guide. All of this resource is editable EXCEPT for the BONUS guide.
⚠️ACT Quizzes for style or content. The only quizzes that are included are for the grammar mistakes. The style and content lessons are lessons only and not quizzes.
❗⏳ While this resource includes everything you need to print and go, I highly recommend taking the time to edit this resource to fit your needs. Please also note that if you wish to use the Google Form Quizzes, you will have a few extra steps to complete before setting up your interactive bulletin board or grading sheet. I have detailed video directions for how to complete this step.
✅Please download the preview to see exactly how this works before purchasing!

⚠️ Do you teach 4th-7th? You may consider purchasing the younger grade edition linked here:

⭐ Fast and Focused Feedback Junior: Writing Workshop Editing Tool

What other teachers are saying:

❤️Hands down the best thing I've bought from TpT. Easy to implement and HUGE benefits to my students.

❤️THIS. IS. AMAZING. Buy it right now. You will not know how you managed without it.

❤️What was I doing with my life before I found this resource? Seriously, it makes grading writing so easy. It completely streamlines the way I provide feedback to students, and it has changed their writing. I couldn't love this resource more!
Apply knowledge of language to understand how language functions in different contexts, to make effective choices for meaning or style, and to comprehend more fully when reading or listening.
Demonstrate command of the conventions of standard English capitalization, punctuation, and spelling when writing.
Demonstrate command of the conventions of standard English grammar and usage when writing or speaking.
Write routinely over extended time frames (time for research, reflection, and revision) and shorter time frames (a single sitting or a day or two) for a range of tasks, purposes, and audiences.
Use technology, including the Internet, to produce and publish writing and to interact and collaborate with others.
Report this Resource to TpT