Feature Matching Chart for the Top 13 iOS Text-Based AAC Apps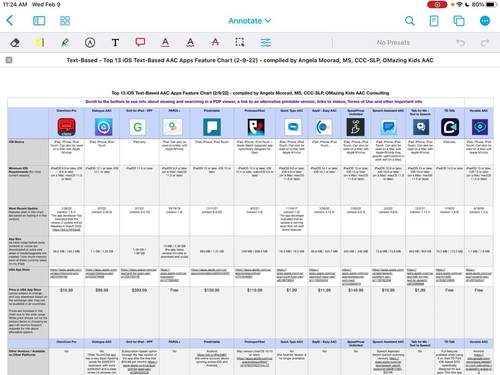 ;
1 interactive scrollable PDF (includes links to alternative printable version & unlisted videos)
What educators are saying
So much great information! It's nice to have everything in one spot to refer to when needed, Thank you!
Also included in
Looking for resources to compare features in a wide variety of AAC apps? This bundle includes all three of my AAC feature matching resources at a discounted price compared to purchasing them individually (saves about 10%). If you are looking to purchase resources for several staff / team members, ta

Price $49.00

Original Price $55.00

Save $6.00
Description
This resource includes an in-depth comparison of features & support resources across the most commonly used 13 iOS AAC apps:
ClaroCom Pro
Dialogue AAC
Grid for iPad VPP
HandySpeech
Predictable
Proloquo4Text
Quick Type AAC
SayIt! - Easy AAC
SpeakProse Unlimited
Speech Assistant AAC
Talk for Me - Text for Speech
TD Talk
Vocable AAC
.
(** Notes: 11/22/22 The PAROL+ app has been removed from the chart since it has disappeared from the App Store. HandySpeech was added in its place. Verbally and Verbally Premium are not included since both are no longer available for purchase in the App Store as of 2/1/22.)
.
Inclusion in the "Top 13" is based on features, long term availability of apps by that developer in the App Store, good history of that app developer updating apps, no subscription required or having a 1x purchase alternative, having patients who benefited from using the app, gathering data from app recommendations from SLPs who have expertise in AAC, etc. and then distilling all that info into one PDF. You can search to find exactly what you're looking for and can copy wording from this chart and paste it into your AAC reports to save time.
.
.
I will be maintaining and updating this chart to help meet the need for current and comprehensive info to be used in feature matching.
.
Includes info about features in these particular apps that may be helpful as folks are exploring ways to modify AAC for Gestalt Language Processors.
.
Watch the TPT preview video where I'm viewing the PDF on my iPad in the free Xodo app. You'll get a feel for how much info will be at your fingertips in this chart. There are 87 rows in the chart. But it's super easy to use the "search" option to find what you want quickly.
.
This product includes free access to 13 unlisted YouTube videos where I highlight some of the most unique features in each app as well as a few other more in-depth videos related to specific features
.
The PDF is not intended to be printed. It one very long page that's interactive so you can scroll, zoom in to see content and tap on links. It's best viewed in the free Xodo PDF reader that can be used on almost any platform. See this blog post for new info about Xodo: https://omazingkidsllc.com/2021/11/06/free-xodo-pdf-reader-app/. It can also be viewed in the Books app on your iPad.
.
Important info for those wanting to view the PDF on a Mac computer: Save the PDF to your computer and then open the PDF online in Xodo: https://www.xodo.com/app/#/
.
A link to the Alternative Printable Version can be found at the very bottom left corner within this PDF. That will allow you access to a separate PDF that can be downloaded and is formatted for printing. The link to that changes every month as I update this resource.
.
More Important Information:
This is an unbiased view at the features across apps. I do not have a financial affiliation with any app developers.
The information in this chart was compiled based on my extensive use of each app, in-depth trials of each app using the most current version on devices running the most current iOS, reading through app user guides, watching recent recorded webinars, consulting directly with app developers and providing them with the opportunity to review the content before this tool was published.
The purpose of this chart isn't to name a "best" app since the "best" AAC for that individual is the combination of options (variety of apps, SGDs, no-tech, etc.) that meets their needs at that moment in time.
All apps included on this chart have varying levels of "robustness". Inclusion of an app on this chart does NOT imply that it has the same overall robustness as another app on this chart. But that isn't discounting the importance of the features in those apps.
I would not expect any app to have every feature in this chart nor would every feature be applicable to every potential AAC user.
This app comparison chart is intended to be a tool to help SLPs and others make informed decisions when choosing iOS text-based AAC apps for consideration during the process of an AAC eval, feature matching and trial of options.
It is important to try out any app with the potential user before making a purchasing recommendation or decision. This is also important when using any extra hardware (keyguards, switches, switch interfaces, carrying straps, stands, mounts, etc...) to support AAC use.
There are many reasons why one would consider a traditional SGD vs. an iPad or any other tablet with an app: durability, warranty, tech support, built-in switch ports for scanning, eye gaze access, etc… But there are many folks who may not have a funding source for a traditional SGD. And there are things about having AAC on an iPad or iPhone that make it a great option for particular users.
This PDF is intended to interactive so you can zoom in to see content and tap on links. It contains lots of links and those may not work if trying to use it in Safari or another browser. It's best viewed in the Books app on an iPad or a PDF viewer. One good free option is PDF Reader & Annotator app by Xodo Technologies Inc. that can be used on any platform (https://www.xodo.com/). If viewing in Xodo on a laptop, it may work best in older viewer: https://www.xodo.com/app-old/#/pdf. See this blog post for new info about Xodo: https://omazingkidsllc.com/2021/11/06/free-xodo-pdf-reader-app/
This PDF is NOT formatted to be printed. Those who have purchased this product can access an alternative multipage printable version by using the link at the bottom of the PDF. The same terms of use apply to that document.
.
Terms of Use:
You may not copy any part of this document (including the content, layout, format, ideas or design) and reproduce it or distribute it as your own work. Please do not copy/paste this info onto other blogs or save this PDF in any online groups or files.
Your purchase is for a single license for personal use. You may not share any part of this document, links or the video with anyone. Instead, please refer them here to my TPT store where they can purchase their own copy.
If you are looking to purchase resources for several staff / team members, take a look at the Multiple Licenses discount (saves 20%)
I assume no liability for app purchases and am not making patient-specific recommendations.
NOTE: This resource is intended to be used in Easel
—————-
Have questions? The best way to reach me with any questions is via messaging on the OMazing Kids Facebook page: . That way AAC related messages don't get lost among the spam in my e-mail.
———————
Looking for info about AAC apps? See this resource: https://www.teacherspayteachers.com/Product/Feature-Matching-Chart-for-the-Top-12-Robust-iOS-Symbol-Based-AAC-Apps-6867853
.
Looking for info about AAC apps? Check out this resource: https://www.teacherspayteachers.com/Product/Feature-Matching-Chart-for-Visual-Scene-and-Video-Visual-Scene-Display-AAC-Apps-7811258
.
Want all three of the AAC feature matching charts? Check out the bundle for a discount compared to purchasing them individually: https://www.teacherspayteachers.com/Product/AAC-Feature-Matching-Resource-Bundle-7849416
————————
Thanks for purchasing this resource from my TPT store!
Angela Moorad, MS, CCC-SLP, Founder of OMazing Kids, LLC OMazing Kids AAC Consulting
Teachers Pay Teachers Store: https://www.teacherspayteachers.com/Store/Omazing-Kids-Aac-Consulting
Total Pages
1 interactive scrollable PDF (includes links to alternative printable version & unlisted videos)
Report this resource to TPT