Feeling & Behavior Workbook for LITTLE LEARNERS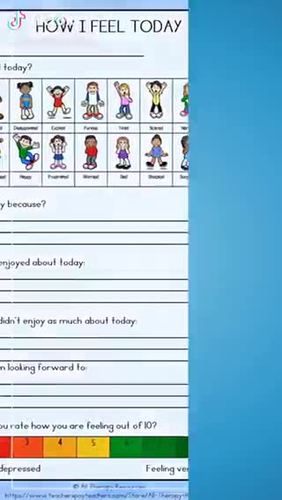 ;
What educators are saying
wonderful resource with tons and tons of options and resources. thank you so much for creating and sharing this packet!!
Great resource to get my high school life skills room using their imagination, thinking non-literally, and talking about emotions.
Also included in
32 x Workbooks - School Counselor Bundle - Behavior, Impulse Control, Relationships, Personal Space and Boundaries, Anger Management, Emotions, Kindness, Self-care, Emotional Regulation, Growth Mindset, Personal Values, Anxiety, Self-esteem, bullying, grief and loss, divorce and much more!Please cli

Price $93.35

Original Price $186.70

Save $93.35

This bundle includes AMAZING resources which includes everything you need to tackle Anger Management. This includes workbooks, lesson plans, problem solving templates and programs, social stories, Incident Prevention and Response Plan Templates as well as a variety of anger management programs.Click

Price $54.99

Original Price $109.79

Save $54.80

This bundle includes 163 RESOURCES from a variety of workbooks, programs, activities, tips/strategies, homework suggestions, whole group and individual activities and much much more! This is a GREAT package and must have for any SCHOOL COUNSELOR! This will definitely be your foundation toolkit to

Price $282.99

Original Price $563.52

Save $280.53

This bundle includes the best of our counseling lessons, workbooks and activities. Ranging from lessons on CBT, DBT, anxiety, friendship, physical aggression, impulse control, social relationships, personal space & boundaries, red and green choices, self talk and self esteem, anger, feelings and

Price $129.99

Original Price $252.52

Save $122.53
Description
Mindset is everything! This workbook supports children to develop a growth mindset and learn not to give up. It incorporates reading, expressive writing, critical thinking, reflective insight development while also teaching social and emotional learning and growth mindset skills for little learners.
The following 75 page workbook focuses on the following topics to encourage emotional wellbeing and resilience:
• Anger management
• Anxiety Management
• Emotional Regulation
• Resilience
• Self-Belief and Confidence
• Positive Thinking
• Relaxation
• Social relating
• Reflective behaviours
• Healthy choices
• Coping Skills
• Understanding your engine
• Problem solving
• Isolating and labelling behaviours
• Creative Visualisation
• Find-a-words
and much much more...
This feelings and behaviour workbook includes:
- Introductory 'about your workbook" – learning about the individual
- Anger rules – what's okay/not okay
- Feeling find-a-word
- Body Keeps the Score exercise – reflective exercise
- Volcano anger management exercise and activity
- Poster – what to do when you feel angry
- Reflective anger management exercises
- Star Tips for controlling anger
- Emotions Poster "printable"
- Rules to support change – poster
- Anger Management worksheets
- Deep breathing exercise
- Coping skills exercise/activity
- Understand your Engine – Engine Speeds
- How I feel Today diary entry
- Healthy me diary/journal
- Cool Down Thoughts Poste
- Problem Solving Reflective Activity – stop and think/choices
- Knowing you feelings – reflective activity – frustration/happy/angry/mad
- Helping Hand activity – who to go for support/trust
- Biggest Hurt and Sadness activity
- Creative Activity – Make a safe home for your pet
- Bucket Activity – reflective care
- SPOTLIGHT activity
- And much more….
This is a workbook that can be printed and used for all children, including those with behavioural and anger management issues to support behaviour change.
This package includes over 36 exercises and activities to do with children, as well as tips and behavioural reinforcer pages.
This package has been utilized for all children and has been used within a school setting as part of a "self care" program. This can also be utilized for children with ADHD, intellectual disability, autism and/or developmental delay.
Please check out some of our BEST SELLERS! Remember – Please follow our STORE! Thank you 
WORKBOOKS – Just print!
Behaviour and Feelings Workbook
Self Esteem and Feelings Workbook
SOCIAL SKILLS, PUBERTY, PROTECTIVE BEHAVIOURS, RELATIONSHIPS AND SEXUALITY
Puberty Lesson and Activity Book
Appropriate V's Appropriate Things to Say
Learning about Bodies and Puberty Workbook
Protective Behaviours, Relationships and Puberty Special Game
Safety In The Community Activity and Educative Book
AUTISM, SOCIAL STORIES & ACTIVITIES
How My Engine Runs Social Story
Teaching Children about Personal Space
Noises Hurt My Ears - Social Story - Sensory Defensiveness
When a loved one dies - grief and loss social story
Understanding Divorce Social Story
Being Nice and Making Friends Social Story
Doing a Poo on the Toilet Social Story
SPECIFIC TEACHING AND COUNSELLING RESOURCES
Supporting Students to Gain Insight through Reflection
Supervision and Reflective Practice Templates
Increasing a Child's Attention Span
Behavioural Strategies for Fostering Self Esteem
Anxious Children - Behavioural Strategies
Children with Attachment and Abandonment Issues: Behavioural Strategies
Recognising Defences in Children
ANGER MANAGEMENT
Anger Management Activity Worksheets
Anger Management Traffic Lights Activity
BEHAVIOUR ASSESSMENT AND BEHAVIOUR SUPPORT PLANS
Managing Aggressive Behaviours and Outbursts
Understanding Behavioural Triggers
Behaviour Reward Chart - Girls (editable)
Behaviour Reward Chart - Boys (editable)
Behaviour Thermometer - Incident Prevention and Response Plan (editable)
If you download it, PLEASE leave feedback!
Also – become a fan by clicking "follow me" at the top of this page. You will be alerted of new products and free downloads. Thanks!
***************************************************************************
TERMS OF USE - Please read my Terms of Use regarding personal and commercial use of All Therapy Resources. You can download the free document here: https://www.teacherspayteachers.com/Product/Terms-of-Use-Clarification-For-free-paid-purchases-All-Therapy-Resources-4714723
***************************************************************************
STORE CREDITS - Did you know...?
• Each time you give feedback on a product, TPT gives you feedback credits that you use to lower the cost of your future purchases. Feedback to TpT Sellers, just like feedback to students, is a valuable tool to aid improvement of future products. Go to your "My Purchases" page to view past downloads, and provide a rating and comment.
• You can be the first to know about new discounts, freebies and product launches. Look for the green star next to the TpT store logo and click it to become a follower and receive email updates about the store.
***************************************************************************
Teaching Duration
Lifelong tool
Report this resource to TPT