Feelings Activities: "Feel Wheel" Feelings Craft & Other Feelings Activities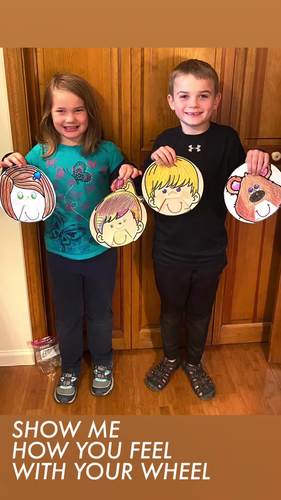 ;
Description
How are you feeling? Easy enough question for most people, but young children might not have a good grasp of understanding and identifying how they, or others feel.
"This is a fantastic hands-on resource. Great for engaging activities."
"My students love using these to show their feelings."
"Very Nice." "My class loved the feelings wheel."
I truly believe that it's very important to know how your students are feeling, especially at the beginning of the year.
This quick and easy (print & go) "Wheeling & Dealing With Feelings" packet, will help you do that in a super-fun way.
4 feelings POSTERS to help introduce your lesson, then display on a wall or bulletin board.
"How I Feel WHEEL" with a BEAR pattern, + 8 BOY options and 9 GIRL patterns to choose from.
happy, sad, mad, silly & scared.
Be sure & check the PREVIEW to see lots of samples.
As part of your introduction, make each facial expression, then have students guess how you are feeling.
Afterwards, call out each of the feelings & have students show you with a facial expression & "body language" how they think that looks.
Trace, Write & Color poster-worksheets.
Daily graphing extension/worksheet.
"Let's share because we care."
happy, sad, mad, silly, scared, tired & grumpy.
Children soon discover that if they are tired, they will often feel sad or grumpy too, which makes for a great discussion.
I'm Diane from Teach With Me, wishing you a ton of "I feel great!" days.
For more Back To School activities, click on the link.
Come join the fun on Facebook for my exclusive FREEBIES & Monthly Giveaways.
Check out my educational Pinterest boards.
Don't forget that all of my new products are 40% off for 48 hours.
Click this LINK to follow my shop & you'll be notified of these huge savings.
Report this resource to TPT