Feelings Book Companion Lessons & Read Aloud Activities -Social-Emotional Bundle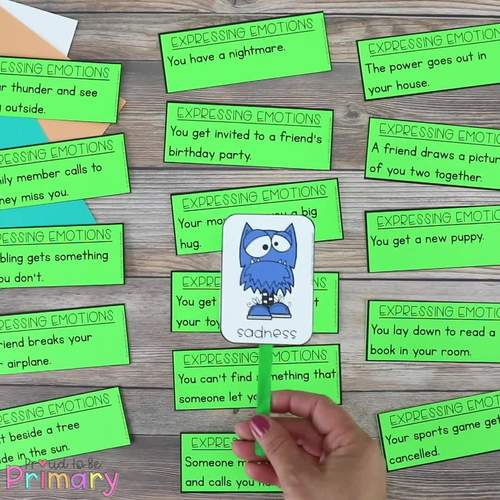 ;
Zip

Google Apps™
169 + 35 Google Slides + info pages + photos
Includes Google Apps™
This bundle contains one or more resources with Google apps (e.g. docs, slides, etc.).
What educators are saying
I loved these books with the paired SEL activities the kids love them we do one SEL lesson a week and they were so fun.
So many awesome and engaging activities to go with some wonderful books! Highly recommend this bundle to anyone - my students have loved all the activities we've done so far.
Products in this Bundle (5)
Also included in
This Social-Emotional Learning Children's Book Companion Bundle includes 40 book companions on popular children's books that relate to emotions, self-regulation, growth mindset, respect and manners, friendship, self-esteem and self-love, kindness, and empathy. ⭐Get ready to revolutionize your read a

Price $69.99

Original Price $139.98

Save $69.99
Description
Do your students need help identifying feelings and expressing emotions? Teach kids to have emotional awareness in your kindergarten, first grade, and second grade classroom with engaging read-aloud lessons and social-emotional learning activities centered around popular children's books. Five feelings & emotions book companions are included: The Color Monster; The Feelings Book; Glad Monster, Sad Monster; F is for Feelings; In My Heart.
Children will participate in classroom discussions and book chats, share their feelings in written form, and participate in fun, engaging activities that build emotional awareness and social skills.
Each book companion includes a detailed lesson plan, guided questions, anchor chart, concept posters, writing responses, check-in chart and follow-up activities (printable and digital included). Great for distance learning or in-class teaching of social-emotional skills!
♥♥The mind+heart Social Emotional Learning Book Companion BUNDLE is available for a SPECIAL LOW PRICE DISCOUNT. Get your entire year's worth of popular SEL children's book (40 included) lessons and activities to revolutionize your read aloud time TODAY! ♥♥
1. The Color Monster by Anna Llenas
This book companion focuses on the ways that we express our emotions. Children will be taught healthy and harmful ways of expressing emotions. They will identify how each emotion makes them feel and what they can do when they feel that way.
2. In My Heart by Jo Witek
The lesson is about the physical ways our bodies experience emotions. Children will identify and share the way feelings are experienced inside and how they identify with each emotion.
3. The Feelings Book by Todd Parr
This lesson is about understanding that it is normal to have different emotions. Children will learn that it is helpful to share our emotions with someone we trust and they will be encouraged to identify who that person is.
4. Glad Monster, Sad Monster by Ed Emberley & Anne Miranda
This lesson emphasizes that we have a variety of emotions that we experience each day at different times. Children will identify which events and experiences cause them to feel a certain way.
5. F is for Feelings by Goldie Millar & Lisa A. Berger
The lesson is about learning emotional language and vocabulary. Children will practice using the new vocabulary to express themselves. They will also identify the feelings that like and dislike and why.
Don't own a copy of a book? No problem! Safelinks to video recordings of books being read aloud are included, as well as a book list of more emotional awareness books to use during your lessons.
Included in this jam-packed SEL Emotional Awareness book companion pack:
Lessons and activities that focus on 5 Children's books related to emotional awareness and feelings
Each book companion comes with a detailed lesson plan, book chat cards to guide a discussion, anchor chart, and book response (writing or collage)
4 follow-up activities included for every book (2 in digital format)
Book companion guide with safe links for easy viewing
Google Slides ready for use in Google Classroom
Images for use in Seesaw
Interactive PowerPoint file of the digital templates for use in your preferred platform
**Check out the detailed PREVIEW for a thorough look into what this resource includes!**
There is a detailed lesson plan for each book with "Book Chat" cards and questions to guide your discussion before, during, and after reading. An interactive anchor chart and writing activity are included that focus on the social-emotional skill presented in the book and encourage children to express their thinking. This is an excellent way to incorporate social-emotional learning into your ELA block each week!
Each book comes with 4 follow-up activities to build upon the book's social-emotional lesson. A fun variety of activities are included for independent, partner, and small group use. These high-interest activities are a great way to extend the book's discussion and build the social-emotional skills kids need!
Every book companion comes with a digital anchor chart, writing template, and a minimum of 2 digital activities. These are ready in Google Slides™ for use in Google Classroom™. You will be provided with instructions on how to access and a link to create a copy. The digital pages are great for use during remote teaching, distance learning, and in a one-to-one classroom!
Why You Need This Book Companion Resource:
♥ The children's books in this book companion resource have been carefully chosen as they cover the most important topics that we often do not have time to teach (SEL ones).
♥ It provides an opportunity to have meaningful discussions and use impactful activities that build important social and emotional skills a child needs. Children need to build their emotional awareness and these lessons and activities will guide them there!
♥ Since you are using literature to teach, you are covering important English Language Arts standards and building children's literacy skills.
♥ It provides a TON of variety for each book, keeping things fresh and engaging for kids!
♥ As it includes printable and digital activities, this resource is great for use during distance learning, homeschooling, and in one-to-one classrooms.
Suggestions on How to Use:
Each lesson starts with a book chat that continues during and after reading a book. There are questions included to guide your discussion.
There is an anchor chart idea provided to enhance the book's lesson.
A follow-up writing activity can be used to extend the discussion.
There are 4 activities for each children's book. Some include digital options.
I suggest reading 1 book per week and doing the lesson. Use the extra activities to reinforce the topic covered in the story throughout the week.
Differentiated templates included. Please choose what fits best with your students' abilities and needs.
The lessons and activities work great for after morning meetings or end of the day lessons, school counselors and classroom teachers, and children in K-2.
Don't own a copy of a book? No problem! Safe links to video recordings of books being read aloud are included, as well as a book list of more books to use during your lessons.
Looking for more Social-Emotional Learning lessons and activities? Check out the curriculum that is needed in ALL classrooms -> The BEST-SELLING mind+heart curriculum available for K-2 and grades 3-5. This curriculum would make the perfect addition to your SEL instruction with the book companions included in this bundle!
Looking for more DIGITAL Social-Emotional Learning lessons and activities? Check out the DIGITAL mind+heart curriculum available for K-2.
Related SEL Products that work great with this resource!
Seasonal SEL (Back to School, Fall, Winter, Spring, End of the Year) Bundle
Kindness Classroom Challenge Pack with Calendars
Social-Emotional Learning Poems & Activities
Stay connected with Proud to be Primary
♥Click HERE to follow our store and receive notifications of new product releases, sales, and freebies.
♥Join our email list and get weekly teacher tip emails and access to our FREE resource library.
♥Visit our website at Proud to be Primary for tons of engaging ideas for teaching kids in the classroom!
♥Join our Facebook group and connect with thousands PROUD primary teachers like yourself.
Questions, suggestions, and feedback are always welcome.
Just use the "Product Q&A" tab and I will get back to you as fast as I can!
Please ask all questions before purchasing or email me at elyse@proudtobeprimary.com.
Terms of Use: This product is licensed for personal classroom use ONLY unless multiple licenses are purchased. Your purchase grants you a license to use in a secure, password-protected online platform (such as Google Classroom) with your students only. You may not transfer or share with another teacher or use for commercial purposes (Outschool, etc.).
©2013 to Present - Proud to be Primary - Elyse Rycroft
Total Pages
169 + 35 Google Slides + info pages + photos
Teaching Duration
2 months
Report this resource to TPT
Standards
to see state-specific standards (only available in the US).
With prompting and support, ask and answer questions about key details in a text.
With prompting and support, retell familiar stories, including key details.
With prompting and support, identify characters, settings, and major events in a story.
Ask and answer questions about unknown words in a text.
With prompting and support, describe the relationship between illustrations and the story in which they appear (e.g., what moment in a story an illustration depicts).