Feelings Check-In for TeleTherapy and Distance Learning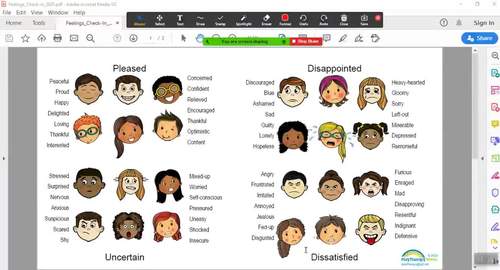 ;
What educators are saying
Useful digital tool when creating engaging Google Slides for lessons/activities and as a way to check in regarding how they are feeling.
Description
This simple activity can be used to check in with your student/client at the start of every session. While simple to use, it can help you to gather a wealth of information to guide you in planning lessons and/or therapeutic interventions. (See our Preview Video for ideas about how to use the Feelings Check-In for screen-sharing and annotation; there is a longer video on our website.)
This large PDF is designed to be used on a teleconferencing platform. Using the tools that come with the platform, the practitioner and the student/client share the screen and both are able to annotate or mark the screen as a way to engage with one another and talk about emotions and the events that led up to those emotions. Using the Feelings Check-In, you can circle faces, highlight words, add new words, mark words with a stamp, etc. This is especially helpful with young people who get bored with simply talking.
The Feelings Check-in can also be used for a variety of interventions groups and families. For example, if you want to give everyone in the group a chance to process their emotional reactions to a recent event, have each person choose a color. Most of the tools can be color-coded, so that each person can have a color to mark their emotions. You end up with a color-coded visual representation of the group's emotional reactions to the event.
The Feelings Check-In displays best on a computer screen but can also be used on a tablet.
Report this resource to TPT