Feelings & Emotions Vocabulary Flashcards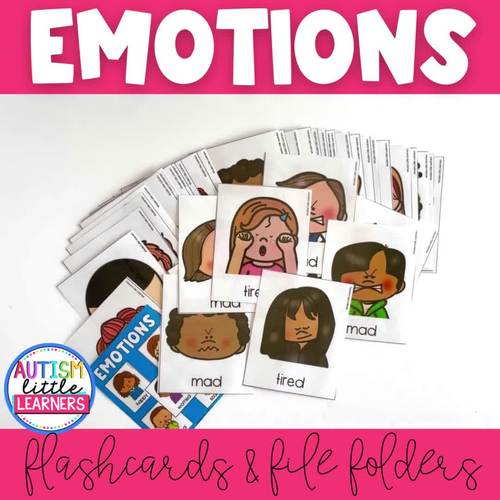 ;
Also included in
This bundle includes ALL of the Autism Little Learners printable products (does not include Boom Cards).© Autism Little Learners 2021-2022Connect with me on:Autism Little Learners WebsiteFacebookPinterestInstagram

Price $1265.00

Original Price $1554.50

Save $289.50
Description
Teach emotions with these bright, colorful, and distraction-free feelings and emotions vocabulary flashcards. These are great for little learners who are beginning to learn to identify, label, match, and sort emotions.
This resource includes flashcards for teaching those basic emotions:
8 happy flashcards
8 sad flashcards
8 worried flashcards
8 excited flashcards
8 mad flashcards
8 tired flashcards
8 surprised flashcards
8 scared flashcards
4 silly flashcards
The pictures from these flashcards can also be used to make emotions matching file folders, as well as to sort emotions. A set of line drawing emotions with a faded look are included to use for sorting the other flashcards. This resource also included a file folder activity, as well as a visual communication board to put together so that non-speaking children can use it to label emotions.
This set is great for speech/language pathologists, special education teachers, and parents. It was designed for use with children with autism, but can also be used with any children learning about emotions.
⭐ Identifying Animated Emotions Boom Cards™
⭐ Spring Emotions Playdough Mats
⭐ St. Patrick's Day Emotions - Social Emotional Activities For Preschool
⭐ Valentine's Emotions- Social Emotional Activities for Preschoolers
⭐ Winter Emotions - Social Emotional Activities For Preschoolers
⭐ Winter Speech Therapy Boom Cards™ - Emotions
⭐ Preschool Self Regulation Activities for Little Learners
© Autism Little Learners 2021
Connect with me on:
Autism Little Learners Website
Report this resource to TPT