Fernando Botero and Antonio Berni Video Activities in Spanish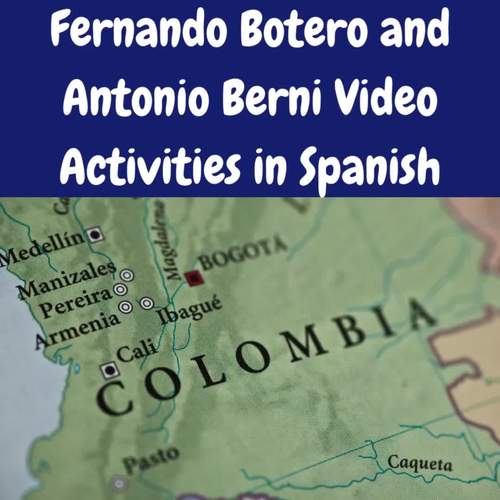 ;
10

th

- 12

th
,
Higher Education
,
Adult Education
,
Homeschool
Description
These video Hispanic Art video activities are perfect for intermediate and advanced Spanish students who are studying Famous Latinos or an art unit! These two activities accompany Spanish videos about Fernando Botero and Antonio Berni.
These video activities include a lot of great information about these two famous Latin American artists. These activities include comprehension questions, links for the videos, and answer keys for these comprehensible videos. Important vocabulary is also included in Spanish and English.
What Teachers Like You Are Saying:
⭐⭐⭐⭐⭐ Great activities! Thanks!
⭐⭐⭐⭐⭐ Excellent activities! We loved it!
Please see other similar intermediate and upper level activities for topics such as immigration, excessive use of technology, environmental issues, natural disasters, bullying, child labor, heroes, superstitions, stereotypes, doctors without borders, educational topics, culture, migrant workers, New Year's Eve, Las Posadas, Las Fallas, 2014 The Year of the Selfie, Texting and Driving, The Use of Smartphones in Spain, and more in the sparkenthusiasm store!
Click here for Frida Kahlo and Diego Rivera Video Activities!
Additional AP Video and Reading Activities
Click here for the money-saving BUNDLE with more than 40 AP video activities organized by theme!
Click below for AWESOME grammar, vocabulary and AP Spanish resources!
Spark Enthusiasm Spanish Grammar, Vocabulary and AP Spanish resources
Let's connect! We would love to hear from you!
Have a great school year!
Report this resource to TPT