Fiction Short Story Unit Middle School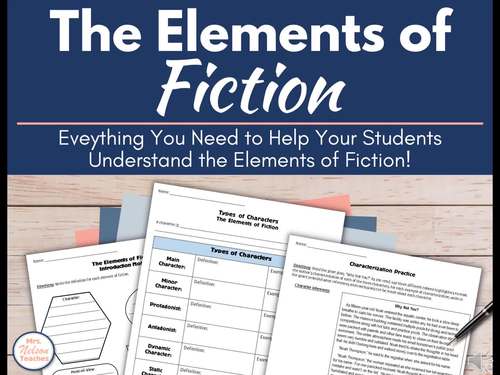 ;
Easel Activities Included
Some resources in this bundle include ready-to-use interactive activities that students can complete on any device. 
Easel by TPT is free to use!
Learn more
.
What educators are saying
I really like the slides presentations. They are very relatable to students. I also like the practice tasks that are generally quite quick to complete.
I've been looking for a resource like this for a while. It had everything I needed and I was easily able to use it with my lessons.
Products in this Bundle (8)
showing 1-5 of 8 products
Bonus
Full Fiction Unit for Middle School Includes 10+ BONUS Activities and Resources
Description
Are you looking for a way to bring the elements of fiction and short stories alive for your middle school students? These no-prep middle school fiction resources include everything you need to teach your middle school students about the elements of fiction through short stories! From Slides Presentations to Worksheets to Creative Activities and more! Topics include characters, setting, theme, plot, conflict, point of view, tone, and more!
Each element of fiction is introduced through direct instruction and then applied to a variety of short stories! Handouts are included for specific short stories AND generic versions of worksheets are included that can be used with any work of fiction you choose! This works perfectly for differentiation among students!
Fiction is one of the most exciting aspects of Language Arts to teach to students! It is just so fun! This unit captures that spirit with fun and engaging lessons your middle school students are sure to enjoy! This unit includes lesson plans, instructional slides presentations, student handouts and assignments, creative writing assignments and more to help you provide your students with a solid foundational knowledge of the elements of fiction!
are included along with a Test Review Activity and a Final Test. Each of the 16 lessons includes a link to a Slides presentation that will guide you and your students through the instruction and assignments. , , , and are all built into the presentations! Each of the 16 lessons also includes , , , and to make your fiction unit virtually stress-free! This is literally a print-and-go unit that requires very little teacher preparation time.
NEW! (1.18.21) - Easel Digital Options are available in addition to paper options!
:
General Teacher Guidelines and Instructions
Unit Plan Overview
Print and Digital Options Available!
18 Individual Lesson Plans
16 Engaging Instructional Slides Presentations
Short Stories Included
Student Note-taking Sheets and Handouts
Guided Practice Activities
Independent Practice Activities
Creative Writing Assignments
Answer Keys (where applicable)
Grading Rubrics (where applicable)
Test Review
Final Elements of Fiction Student Assessment
Instructions for accessing Google Slides Presentations
Instructions for saving Google Slides Presentations as PowerPoint Presentations
:
Characters
Protagonist/Antagonist
Major/Minor Characters
Round/Flat Characters
Dynamic/Static Characters
Characterization – Indirect/Direct
Setting
Mood
Point of View (1st Person; 3rd Person-Limited; 3rd Person-Omniscient)
Tone
Conflict – Internal/External
Foreshadowing
Plot Structure (Exposition, Rising Action, Climax, Falling Action, Resolution)
Summary
Topic
Theme
:
"The Math Test"
"Thank You, Ma'm" - Langston Hughes*
"Why Not You?"
"The Fun They Had" - Isaac Asimov*
"The Monkey's Paw" - W.W. Jacobs*
"The Stage Production"
"Zoo" - Edward D. Hoch*
"The Sound of Thunder" - Ray Bradbury*
"The Lottery" - Shirley Jackson*
"Maturity & Responsibility"
"The Landlady" - Roald Dahl*
"The All-American Slurp" - Namioka Lensey*
*Stories not included in the file, but are easily accessible online.
:
The Witch of Blackbird Pond - Complete Novel Unit
Informational Text Feature Unit
Free Stuff!
Did you know that TpT gives you credits towards future purchases when you leave feedback? Your feedback is so important to me as I try to provide the best products possible! Please go to your "My Purchases" page (you may need to log in). Next to each purchase, you'll see a "Provide Feedback" button. Simply click on the button and it will take you to a page where you can give a quick rating and leave a short comment. Thank you so much for providing valuable feedback!
Follow Me!
Click on the "Follow Me" button on my store page to see all my latest products and updates!
Answer Key
Included with rubric
Teaching Duration
3 Weeks
Report this resource to TPT
Standards
to see state-specific standards (only available in the US).
Cite textual evidence to support analysis of what the text says explicitly as well as inferences drawn from the text.
Determine a theme or central idea of a text and how it is conveyed through particular details; provide a summary of the text distinct from personal opinions or judgments.
Describe how a particular story's or drama's plot unfolds in a series of episodes as well as how the characters respond or change as the plot moves toward a resolution.
Analyze how a particular sentence, chapter, scene, or stanza fits into the overall structure of a text and contributes to the development of the theme, setting, or plot.
Explain how an author develops the point of view of the narrator or speaker in a text.