Fiction vs. Nonfiction PowerPoint and Google Slides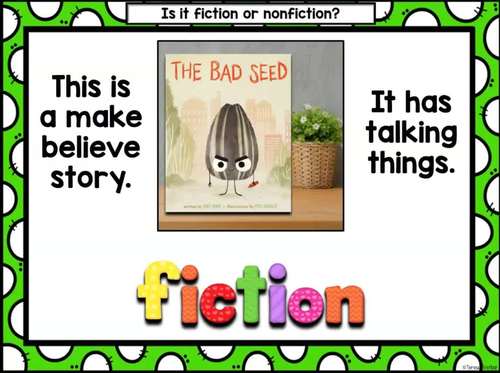 ;
What educators are saying
I used this resource along with the "polls" feature in a Microsoft Teams lesson. It worked wonderfully for students to guess the genre during the Powerpoint presentation.
I love the PPT that goes with this product. The engaging graphics and examples really helped model true examples of each genre.
Description
Do your students need a little extra practice identifying fiction and nonfiction books? These fun interactive slides can be played like a game. Using a projector, show the book cover, give students time to think and answer, then click to reveal the answer and explanation. Works in PowerPoint and Google Slides.
Each slide includes a brief explanation as to what makes the book fiction or nonfiction to help students understand more clearly.
INCLUDES:
✅Printable/Projectable Anchor Charts
✅Picture Books vs Nonfiction PowerPoint
✅Chapter Books vs Nonfiction PowerPoint
✅Editable PowerPoint
✅Links to the Google Slides
BONUS: There is an editable PPT file included. Simply insert a photo of your favorite book and you have a brand new game. Use it throughout the year with new books each time.
This is such a fun and interactive way to review and practice this skill. Your students will be raising their hands with excitement to be the first to answer.
You'll love that there is NO PREP work involved! Just open the file and begin. This is great for library classes as well as classrooms. If you are a librarian who must travel to the classrooms occasionally, this will be a hit with your students.
What if my students don't know some of the books? Read the title and discuss what's on the cover of the book. Are animals doing things they can't really do? Is it a real photo or an illustration? Don't forget there is an editable file where you can insert an image of your own books.
Click the PREVIEW to get a better look! The preview also includes a link to a helpful blog post with tips and games for teaching fiction and nonfiction.
You might also like the winter-themed version.
⭐⭐⭐⭐⭐This PowerPoint slideshow was a great review of fiction and nonfiction. My students were so engaged and I loved that each slide gave the explanation why a particular book was fiction/nonfiction. That was just so helpful and clever!! This was definitely a worthwhile purchase! Thank you!
⭐⭐⭐⭐⭐Even though I have reviewed fiction vs. nonfiction a million times in my library, sometimes they are still confused. This PPT is nice because it has real pictures. Sometimes a picture is worth a thousand (librarian) words!
⭐⭐⭐⭐⭐Great resource. Tons of slides so I was able to pick and choose for my kinder babies. I like how they can participate by making a guess as to if they think it's non-fiction or fiction.
FOLLOW MY STORE TO SEE WHEN NEW PRODUCTS ARE ADDED.
Need more materials for teaching fiction vs nonfiction?
⭐ Fiction vs. Nonfiction GAMESHOW
⭐ Fiction vs Nonfiction Color by Code
⭐ Fiction vs Nonfiction Color by Code Fall Themed
Report this resource to TPT