Fictional Narratives Writing Unit | Terrific Writing 3rd Grade Curriculum Unit 4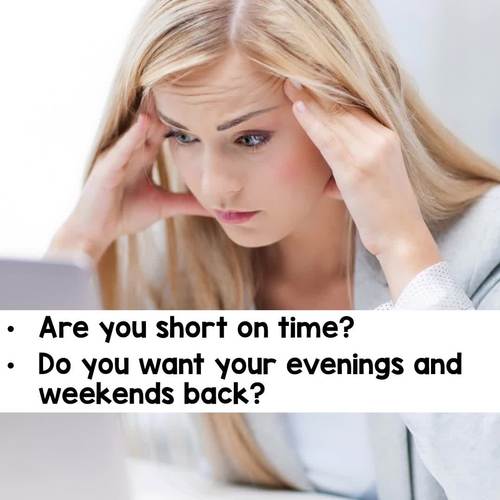 ;
Also included in
Terrific Writing is a comprehensive 3rd grade writing curriculum. These grade 3 writing units have done-for-you lesson plans and no prep activities. This bundle includes Unit 1 'Personal Narratives', Unit 2 'Opinion Writing', Unit 3 'Informational Writing', and Unit 4 'Fictional Narratives' where yo

Price $39.99

Original Price $59.96

Save $19.97
Description
Looking to teach fiction narrative writing to your grade 3 students? Terrific Writing is a comprehensive writing curriculum for Third Grade. This is Unit 4 'Fictional Narratives', where your students will learn how to write engaging and imaginative stories.
This curriculum is standards based (to the common core) and genre based.
Are you struggling to teach writing? Do your students hate writing lessons?
Teaching writing can be so tricky, I get it!
Well don't worry, I've got you covered.
In this curriculum, your students will develop a love of writing. The graphic organizers, interactive notebooks, and final craft will engage students much more than a blank piece of paper. The final writing piece asks students to write about an unexpected event! They will enjoy being able to choose what event to write about and aren't forced into a narrow writing prompt.
Writing doesn't have to be dull and students definitely shouldn't hate writing!
This 5 week unit has EVERYTHING you need, because let's be honest, teachers are time poor.
Let's get your evenings and weekends back, my friend! Take a break from lesson planning and searching for engaging materials. It's all right here.
25 step-by-step scripted lesson plans
25 posters
19 graphic organizers / worksheets
2 interactive notebooks and 1 writing craft
3 original mentor texts (PowerPoint versions and PDF in color and b&w)
24 tasks cards extension activities (2 versions - b&w, color)
1 assessment rubric
The lessons follow a simple format of mini lesson, think and share, and independent writing time.
Video overview to help organize and implement the unit
List of common core standards that align with this unit
Teacher directions for the lesson plans
Suggestions for differentiation and lesson times
List of recommended mentor texts (with links)
Unit scope and at-a-glance calendar
Lesson materials list
Student book/folder cover (3 versions - journal, notebook, or folder)
1 writing prompt pre-assessment
4 lined pages (for first drafts and crafts)
2 checklists
1 set of compliment notes (2 versions - b&w, color)
2 certificates (boy and girl, each in 2 versions - b&w, color)
Teacher directions, examples, and elaborations for the rubric
Video with tips for using the rubric
Lesson 1 - What is a fictional narrative?
Lesson 2 - What can I write about?
Lesson 3 - What is the structure of a narrative?
Lesson 4 - Narratives need characters
Lesson 5 - Narratives need a setting
Lesson 6 - Narratives need a problem
Lesson 7 - Narratives need a solution
Lesson 8 - What is a story arc?
Lesson 9 - Adding suspense
Lesson 10 - Point of view
Lesson 11 - What will my narrative be about?
Lesson 12 - Let's plan a narrative
Lesson 13 - Start with a hook
Lesson 14 - Writing an introduction
Lesson 15 - Show, don't tell
Lesson 16 - Better vocab
Lesson 17 - Stretching sentences
Lesson 18 - Using dialogue
Lesson 19 - Powerful paragraphs
Lesson 20 - Linking words
Lesson 21 - Writing an ending
Lesson 22 - Putting it all together
Lesson 23 - Revise and edit
Lesson 24 - Final draft and illustrations
Lesson 25 - Publishing party
Check out the preview to get a closer look. What are you waiting for? :)
Read the blog post for unit 4 here.
Enjoy this resource! Don't forget to follow my store for more awesome products and rate this product for your TPT credits :)
Report this resource to TPT
Standards
to see state-specific standards (only available in the US).
Write narratives to develop real or imagined experiences or events using effective technique, descriptive details, and clear event sequences.
With guidance and support from adults, produce writing in which the development and organization are appropriate to task and purpose.
With guidance and support from peers and adults, develop and strengthen writing as needed by planning, revising, and editing.
Recall information from experiences or gather information from print and digital sources; take brief notes on sources and sort evidence into provided categories.
Write routinely over extended time frames (time for research, reflection, and revision) and shorter time frames (a single sitting or a day or two) for a range of discipline-specific tasks, purposes, and audiences.