Fiesta Friday! Martes 13 & Superstitions Reading and Video Activities in Spanish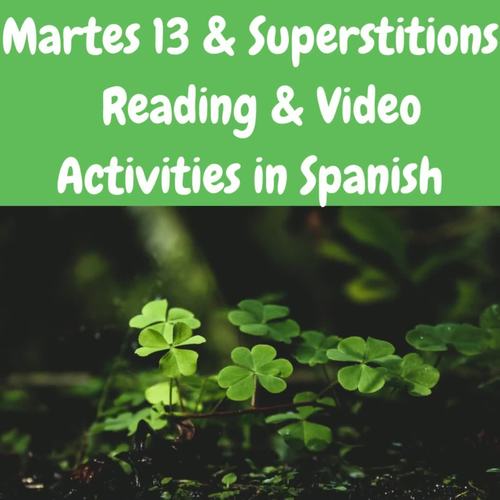 ;
Description
Looking for an engaging lesson to teach about Supersticiones and Martes 13? This 8 page editable Martes 13 and superstitions reading and video activities packet is perfect for all Intermediate Spanish, Advanced Spanish, Spanish Literature, IB Spanish, and AP Spanish classes. There is one reading with comprehension questions and one video activity with comprehension questions. Answer keys are included along with the video link!
These activities are fun to discuss and will spark interesting class conversations with intermediate and advanced Spanish students.
Teachers Like You Are Saying:
⭐⭐⭐⭐⭐ This was one of my students' favorites lessons last year! I am looking forward to using it again this year!
⭐⭐⭐⭐⭐ This is great to use with my classes as we are talking about traditions and culture right now. Thank you for sharing!
⭐⭐⭐⭐⭐ Thank you so much! It was a great resource!
Click here for Additional AP Spanish Video and Reading Activities Organized by Theme!
Please see other similar intermediate and upper level activities for topics such as
If Spain Were a Town of Only 100 People
Technology and the Use of Cell Phones
Let's connect! We would love to hear from you!
Have a great school year!
Report this resource to TPT