Fifth Grade Math and Literacy Centers NO HOLIDAYS Hands-On and Digital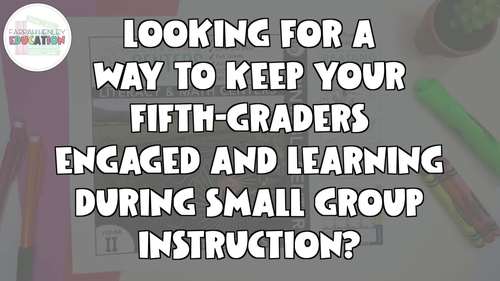 ;
PDF

Google Apps™
Includes Google Apps™
The Teacher-Author indicated this resource includes assets from Google Workspace (e.g. docs, slides, etc.).
What educators are saying
LOVE, LOVE, LOVE! This is a great digital component addition to stations. There are plenty of activities to rotate through to keep spiraling skills.
Kids loved these digital stations! It was easy to implement and allows the students to go at their own pace.
Description
Looking for a way to keep your fifth-graders engaged and learning during small group instruction or virtual learning? This year-long bundle of 240 hands-on AND digital math and literacy center activities will take the stress out of planning your small group instruction block and keep your students engaged while you are teaching.
This resource is VOLUME 2 and DOES NOT include holiday-themed clipart. We currently do not have digital centers for Volume 1 Fifth Grade but you can find the printable version with holidays at the link below.
CLICK HERE FOR VOLUME 1 - INCLUDES HOLIDAY Printable Centers
These centers are made for Google Slides™ and Pre-loaded into Seesaw (click, add to your library, and assign). Also includes BOOM CARDS™
⭐ 240 printable and 240 digital center activities for 3 platforms (Google Slides™, Seesaw™, and Boom Cards™)
⭐ Bright Colorful Graphics (B&W printable version included)
⭐ Movable Pieces for Drag and Drop Activities
⭐ Digital and Printable Exit Sheets
⭐ Printable Answer Keys (for easy grading or sub tubs)
⭐ CCSS and TEKS Aligned (with a table of contents as well as printed on each center cover)
⭐ NO Holidays! These centers can be used year-round!
Whether you're looking for a new activity to add to your center rotations or need ideas to help you get started, these centers have you covered.
These monthly station/center activities have been created to provide you with engaging, fun, and meaningful activities for reviewing standards in your classroom.
These centers are perfect for small group instruction, RTI, or literacy centers. Save your paper...save your ink...save your PREP TIME!
This bundle is the TOP BUNDLE of all Fifth Grade Volume 2 Printable and Digital Centers and the BEST DEAL!
Main Idea
Determine Theme
Author's Purpose
Sequential Order
Create a Story
Prefixes
Greek or Latin Roots
Kinds of Sentences
Identify Abstract Nouns
Commas with a Series
Standard and Expanded Form
Place Value
Compare Numbers Up To Billions
Add and Subtract Whole Numbers
Add and Subtract: Word Problems
Complete Addition and Subtraction Sentences
Multiply by 1-Digit Numbers
Multiply by 1-Digit Numbers: Word Problems
Division Facts to 12
Division Facts to 12: Word Problems
September Centers (included NOW)
Main Idea
Characters
Point of View
Coordinating Conjunctions
Writing a Conclusion
Descriptive Details
Greek and Latin Roots
Sentence Fragments and Run-Ons
Common and Proper Nouns
Subordinating Conjunctions
Convert Words to Digits
Convert Digits to Words
Even or Odd (addition)
Addition and Subtraction
Addition and Subtraction
Multiplication
Multiplication
Division
Division
Exponents
October Centers - (INCLUDED NOW)
Point of View
Inferences
Text Structure
Organize Writing
Using Stronger Verbs
Editing and Revising
Prefixes (re-)
Categorize Vocabulary
Personal Pronouns
Helping Verbs
Spell Word Names
Properties of Addition
Multiplication
Estimate Products
Divide Numbers Ending in 0
Adjust Quotients
Evaluate Powers
Identify Factors
Mixed Operations
Number Sequences
November Centers - (INCLUDED NOW)
Main Idea
Order of Events
Text Feature
Organize Information by Main Idea
Fact and Opinion
Prefix - sub
Greek and Latin Roots
Verb Tense
Order Adjectives
Prepositions
Rounding
Addition Properties
Multiplication Properties
Estimate Quotients
Powers of 10
Fractions
Equivalent Fractions
Compare Fractions
Add and Subtract Fractions
Complete Number Sequence
December Centers - (INCLUDED NOW)
Main Idea
Cause and Effect
Text Features
Informational Texts
Transitions in Writing
Expository Writing
Prefixes
Simple Subject or Simple Predicate
Identify Adverbs
Commas
Even or Odd
Estimate Sums and Differences
Multiply 3-Digit Numbers
Estimate Quotients
Exponents
Prime and Composite Numbers
Decimals
Add Decimals
Fractions in Lowest Terms
Read a Table
January Centers - (INCLUDED NOW)
Compare and Contrast
Compare Two Texts
Similes and Metaphors
Opinion Statement
Reasons to Support Opinion
Opinion Writing
Prefixes and Suffixes
Greek and Latin Roots
Past Tense Verbs
Capitalization
Compare Numbers
Word Problems
Multiplication
Division
Exponents
Prime Factors
Decimals
Interpret Graph
Frequency Charts
Percentages
February Centers - (INCLUDED NOW)
Text Structure
Point of View
Similes and Metaphors
Supporting Details
Opinion Writing
Suffixes
Synonyms
Idioms
Shades of Meaning
Prepositions
Writing Numbers
Addition
Multiplication
Division
Exponents
Divisibility Rules
Decimals
Add Decimals
Divide by Powers of 10
Measurement
March Centers - (INCLUDED NOW)
Inferences
Sensory Details
Similes and Metaphors
Imagery
Narrative Writing
Narrative Writing
Correlative Conjunctions
Formatting Titles
Irregular Past Tense
Idioms
Evaluate Numerical Expressions
Write Numerical Expressions
Round Decimals
Estimate Products
Add and Subtract Fractions
Divide Fractions
Compare Weight
Line Plots
Different Types of Lines
Coordinating Plane
April Centers - (INCLUDED NOW)
Analyze Poetry
Text Structure
Draw Information from Sources
Research Project
Gather Information
Informational Writing
Reference Materials
Idioms, Adages, and Proverbs
Greek and Latin Roots
High-Frequency Words
Expressions
Use Parentheses, Brackets, or Braces
Read and Write Decimals
Compare Decimals
Fractions
Fractions
Measure Volume
Measure Volume
Attributes of Shapes
Two-Dimensional Figures
May Centers - (INCLUDED NOW)
Compare and Contrast
Drawing Inferences
Academic Vocabulary
Text Evidence
Routine Writing
Speaking and Listening
Reference Material
Vocabulary
Greek and Latin Roots
High-Frequency Words
Number Patterns
Evaluate Expressions
Multiplication
Decimals
Multiplying Fractions
Multiplying Fractions
Divide Fractions
Solid Figures and Volume
Finding Volume
Length x Width x Height
June Centers - (INCLUDED NOW)
Summarize the Text
Structural Elements of a Poem
Compare and Contrast
Opinion Writing
Expository Writing
Narrative Writing
Synonyms
Irregular Past Tense
Greek and Latin Roots
High-Frequency Words
Evaluate Numerical Expressions
Expressions
Exponents
Decimals
Add and Subtract Fractions
Fraction Word Problems
Read a Table
Interpret Graphs
Coordinate Plane
Subtraction
July Centers - (INCLUDED NOW)
Author's Purpose
Inference
Compare and Contrast
Information from Sources
Write an Introduction
Write a Conclusion
Order Adjectives
Simple Subject or Procedure
Greek and Latin Roots
High-Frequency Words
Patterns
Use Parenthesis
Division
Round Decimals
Multiplying Fractions
Divide Fractions
Interpret Graphs
Solids, Figures, and Volume
Coordinate Plane
Classify Quadrilaterals
To use Boom Cards, you must be connected to the Internet. Boom Cards play on modern browsers (Chrome, Safari, Firefox, and Edge). Apps are available for Android, iPads, iPhones, and Kindle Fires. For security and privacy, adults must have a Boom Learning account to use and assign Boom Cards. You will be able to assign the Boom Cards you are buying with "Fast Pins," (play provides instant feedback for self-grading Boom Cards). Fast Play is always a FREE way for students to engage with Boom Cards decks. For additional assignment options, you'll need a premium account. If you are new to Boom Learning, you will be offered a free trial of our premium account. Read here for details: http://bit.ly/BoomTrial.
****************************************************
Other Resources You Will Love
❤️ Fifth Grade Centers Math and Literacy | YEAR LONG BUNDLE | Volume One
❤️ Differentiated Reading Passages for Close Reading Grades 2nd to 4th
❤️ Digital Differentiated Reading Comprehension - YEAR LONG - Distance Learning
*****************************************
What is the difference between Volume 1 and Volume 2?
Volume 1 and Volume 2 are completely different center activities. Volume 1 includes holiday clipart in months like October, November, December, February, March, April, and July.
Are the centers in Volume 1 and Volume 2 different activities, or the same activities with the clipart just switched out?
This is a great question! When we built Volume 2 of our popular centers, we didn't want to just switch out the clip art and have you purchase the same centers twice. Many teachers buy both volumes to double the number of centers they have for their classrooms for this reason. Rest assured that Volume 1 and Volume 2 do not contain the same center activities.
Can these centers be used independently by my students?
We pride ourselves on building our center activities following our Easy Centers Framework™ which includes having activities that are predictable and familiar to students. We use a bank of different styles of activities throughout the month (choosing the best one we feel is appropriate for the skill) so that your students become familiar with the activities and have fewer (and some teachers report NONE) questions each time you switch out centers.
Can these activities be used in a digital or virtual classroom?
This particular unit includes printable and digital and can be used on Google Classroom™, Seesaw™, Microsoft Teams™, Canvas™, and Schoology™. (We only provide support for Google Classroom and Seesaw as we have not taught using the other platforms. However, there are many Youtube videos available on how to use Google Slides™ inside the other platforms.
Can I use these activities in my online classrooms as teaching material? (Outschool, Online ESL) YES! We love online teachers and we authorize our resources to be used BY THE TEACHER during lessons. We don't allow them to be sent to parents to be used outside the online classroom.
***********************************************************
Please FOLLOW my store to receive EXCLUSIVE notes to followers that will include EXCLUSIVE freebies and additional special deals for you!
*****************************************************
Customer Tips: Are you needing this resource for more than one teacher or classroom?
This is a common occurrence among teachers, especially if you are part of a teaching team or grade level team. In order to make it easy, and legal, for you to share with your team, you may purchase additional licenses of this product for 25%-50% off the original price. In order to do this, go to your MY PURCHASES page and simply click BUY ADDITIONAL LICENSES. This is a great way to buy for an entire team or grade level while respecting the copyright licenses of the author. Thank you for being a responsible teacher buyer!
How to get TPT credit for use on future purchases:
Please go to your MY PURCHASES page (you may need to log in). Beside each purchase, you'll see a Provide Feedback button. Simply click it and you will be taken to a page where you can give a quick rating and leave a short comment for the product. Each time you give feedback, TPT gives you feedback credits that you can use to lower the cost of your future purchases. I value your feedback greatly as it helps me determine which products are most valuable for your classroom so I can create more for you!
Be the first to know about my new discounts, freebies, and product launches:
Look for the green star next to my store logo and click it to become a follower. Voila! You will now receive email updates about my store!
**************************************************
Copyright © Farrah Henley Education, LLC. All rights reserved by the author. This product is to be used by the original downloader only. Copying for more than one teacher, classroom, department, school, or school system is prohibited. This product may not be distributed or displayed digitally for public view. Failure to comply is a copyright infringement and a violation of the Digital Millennium Copyright Act (DMCA). Clipart and elements found in this PDF are copyrighted and cannot be extracted and used outside of this file without permission or license. Intended for classroom and personal use ONLY.
Report this resource to TPT