Figurative Language Review Activities *with Google Slides™ Distance Learning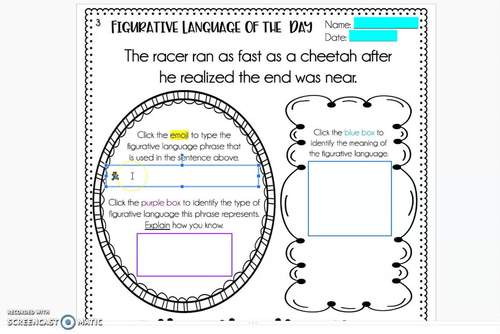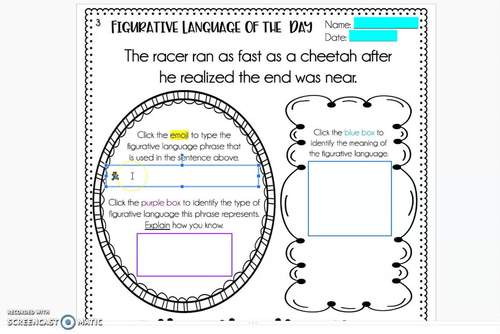 Created By
Jennifer Findley
 Digital Resource for Students
The Teacher-Author has indicated that this resource is made for device-based learning.
Product Description
Do your students struggle with identifying and understanding figurative language? I know mine always do! They need constant practice and exposure to different figurative language phrases to help them truly begin to master this tricky skill.
NOTE: This resource now has a Google Classroom™ version, making it ideal for digital distance learning and remote teaching! Please see the 3rd page of the PDF for details and the link!
This figurative language review resource includes 60 days of repetitive Figurative Language practice.
Following a template, the students analyze a sentence that contains figurative language. The students then complete the following questions/tasks with the sentence.
1. Write the figurative language used in the sentence. Determine the type of figurative language and how you know.
2. Write the meaning of the figurative language.
3. Write the phrase in a new unique sentence or paragraph.
This resource now includes a digital version compatible with Google Slides. Using the Google Slides version, you can continue reviewing and practicing Figurative Language digitally!
An answer key and blank template are included.
Note: Some of the answer keys are open to interpretation as some phrases can be explained as multiple types of figurative language.
Need More Figurative Language Activities Resources? Click on the links to see more!
Figurative Language Reading Activities and Games
Figurative Language Teaching Resources
Teaching Duration
2 months
Report this Resource to TpT