File Folder Games for Special Education Bundle | Fall Sentence Activities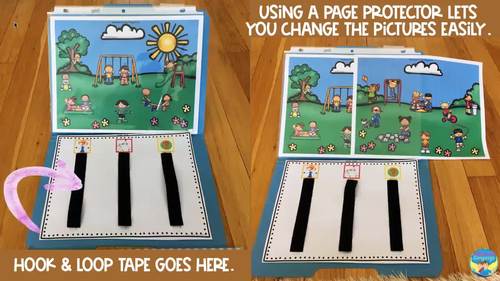 ;
Products in this Bundle (3)
Description
Keep your students expanding their communication skills all fall with activities, games, and adapted books that build sentences and literacy skills! The variety of skills, levels, and activity choices can be used with individuals or small groups and will help you differentiate instruction for mixed groups.
Sped teachers use file folder activities effectively, so why not SLPs? Now you can build language skills visually using file folders and develop literacy and play skills in the same packet! I can't talk fast enough to give you all of the ideas in 45 seconds, so I made a video preview to give you an idea of what you can do with this activity packed set! Check it out!
The topics include:
* school trip rules
* apples and pumpkins
* Halloween costumes and routines
* Thanksgiving celebrations past and present
* food likes and dislikes
The skills include:
* symbol supported literacy with Smarty Symbols, photos and clip art
* using nouns, verbs, prepositions and describing words in sentences
* understanding expected behaviors on school trips and trick or treating
* building 3-4 word/symbol sentences to tell about fall events
* sequencing
* classification
The activity formats include:
* exact picture matches in activities for concrete learners
* file folder activities
* visual, hands-on task card type photo activities
* using symbols to answer questions or build sentences about pictured activities
* use of a variety of clip art and photos to accommodate varied learning styles
* simple interactive games
* ability to use the activities for independent work after teaching
* adapted books
* worksheets
It pays off to give feedback! You earn credits toward free TpT purchases when you do, and your kind words bring a smile to my day! I love happy feedback and encourage you to ask a question at my store if something isn't right so I can fix it.
Also, be sure to follow me to find out about new products, which are 50% off for the first 24 hours. Thanks for stopping by! Linda@Looks-Like-Language
You might also like:

Social Skills | Interactive Games and Activities | Fall Sharing Fun
Winter Activities | Speech Therapy | Core Vocabulary Focus | AAC | Autism
Report this resource to TPT
Standards
to see state-specific standards (only available in the US).
Speak audibly and express thoughts, feelings, and ideas clearly.
Produce complete sentences when appropriate to task and situation.
Produce complete sentences when appropriate to task and situation in order to provide requested detail or clarification.