File Folder Games for Special Education Bundle | Outdoors Sentence Activities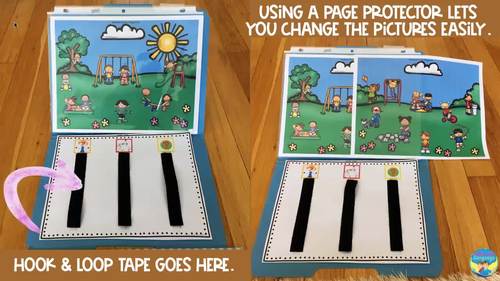 ;
Products in this Bundle (6)
showing 1-5 of 6 products
Description
There's a wealth of activities in this picture, symbol and photo supported bundle to increase functional communication skills for your special education students using core vocabulary for daily life activities. From single words to sentences, independent and interactive file folder activities, games, picture worksheets, and adapted books give students many opportunities to practice skills!
Special education teachers use file folder activities effectively to improve matching skills, so why not build language skills visually using file folders? Develop literacy and interactive skills in the same packet! Use with thematic toys for younger students to build play skills or prepare older students for trips and outdoor activities. There are so many different ways to use the materials in speech therapy sessions and special education classrooms!
Be sure to look at the visual video preview for set up ideas and to see some of the fun you can have with this activity-packed set!
Activity Choices:
1- Photo sentence activities.
2- Adapted books for building responses using core vocabulary.
3- File folder activities to build varied picture sentences.
4- Build sentences using symbols to answer questions about the pictured activities.
5- Play a sentence-building game.
6- Complete the picture worksheets for categorization skills with varied formats.
Each set includes:
* 2 or more interactive file folder sentence activities.
* Game strips for making 2-4 symbol sentences (varies by set.)
* Symbols and pictures to make noun-verb- object sentences.
* Cut and glue picture worksheets for making sentences.
* Picture worksheets categorizing skills.
* Photo activity sets for building sentences.
* 2-3 adapted books for core vocabulary.
It pays off to give feedback! You earn credits toward free TpT purchases when you do, and your kind words bring a smile to my day! I love happy feedback and encourage you to ask a question at my store if something isn't right so I can fix it.
Also, be sure to follow me to find out about new products, which are 50% off for the first 24 hours. Thanks for stopping by! Linda@Looks-Like-Language

Related Products
• File Folder Games | Adapted Books | Sentence Building | Fall Activities Bundle
• File Folder Games | Adapted Books | Sentence Building | Winter Activities
Report this resource to TPT
Standards
to see state-specific standards (only available in the US).
Produce and expand complete sentences in shared language activities.
Sort common objects into categories (e.g., shapes, foods) to gain a sense of the concepts the categories represent.