File Folder Games for Special Education | Winter Sentence Activities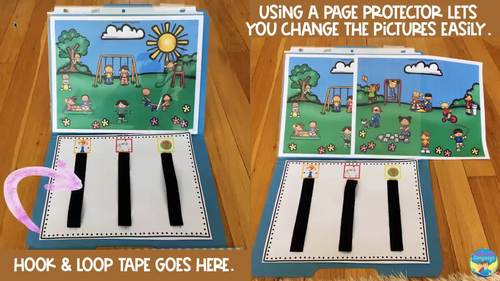 ;
Description
This hands-on, visually supported expressive language set can address multiple skills while helping your students build sentences to tell about winter. The 3 file folder activity winter scenes for making sentences have options for 3 to 5 part sentences that let you address who, what, where and how questions. The winter scenes and the 44 winter photo cards work well for describing activities, too, and a sentence board for winter clothing is included. Great for autism and AAC!
Sped teachers use file folder activities effectively, so why not SLPs? Now you can build language skills visually using file folders and develop literacy and play skills in the same packet! I can't talk fast enough to give you all of the ideas in 45 seconds, so I made a video preview to give you an idea of what you can do with this activity-packed set! Check it out!

Activity Choices:
1- Multiple different file folder sentence activities can be made with the 3 winter scenes and 4 sentence building options.
2- Build sentences using the symbols to answer who, what, where and how questions about the pictured activities.
3- Play a sentence-building game.
4- Build sentences to tell about the 44 winter photo cards in group or independent activities- great for centers!
5- Use the sentence board to describe the color winter clothing the children in the scenes are wearing.
6- Complete the picture worksheets for varied language skills (sentences, categories, and functions.)

What are happy buyers saying?

* "Fun scenes to talk about. I used this a lot during our long, snowy winter."
* "Great item! The students enjoyed working on this."
* "This is a great resource for many of my students. We are constantly working on building sentences, vocabulary and answering questions. Very helpful!"

Included are:
* 3 winter scenes.
* 4 symbol sentence pages with who, what, where and how for making sentences. visually or teaching WH questions.
* 40 face picture symbols to tell 'who' (exact matches from the picture scenes.)
* 40 verb symbols to tell about the actions.
* 40 object pictures to tell 'what.'
* 20 preposition symbols to tell 'where.'
* 20 describing words.
* 3-5 symbol sentence strips for the game or independent activities (who, action, what, where, how.)
* 44 winter photo cards for building sentences independently or as a game.
* 10 cut and glue symbol supported worksheets for making picture sentences.
* 3 category worksheets for what belongs in wintertime.
* 2 worksheets to cut and glue the action symbol to match the winter objects.
* 2 cut and glue winter category worksheets.

It pays off to give feedback! You earn credits toward free TpT purchases when you do, and your kind words bring a smile to my day! I love happy feedback and encourage you to ask a question at my store if something isn't right so I can fix it.

Also, be sure to follow me to find out about new products, which are 50% off for the first 24 hours.

Thanks for stopping by! Linda@Looks-Like-Language

You might also like:
• Winter Clothing Color Match Snowman Activities for Mixed Groups
• Winter Sentence Building No Prep No Print BOOM Cards
• Winter Themed Token Boards and First Then Special Education Visuals
Report this resource to TPT
Standards
to see state-specific standards (only available in the US).
Describe familiar people, places, things, and events and, with prompting and support, provide additional detail.
Describe people, places, things, and events with relevant details, expressing ideas and feelings clearly.
Use the most frequently occurring prepositions (e.g., to, from, in, out, on, off, for, of, by, with).
Produce and expand complete sentences in shared language activities.
Produce and expand complete simple and compound declarative, interrogative, imperative, and exclamatory sentences in response to prompts.