Fine Motor Lessons and Activities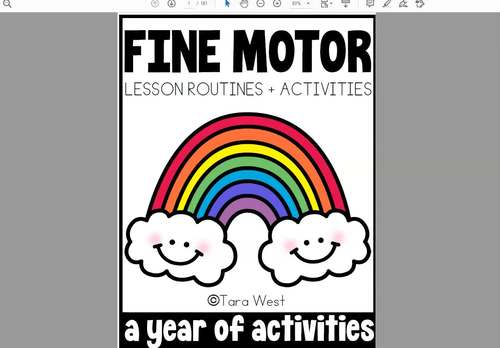 ;
What educators are saying
This is exactly what my kindergartners need. They love the activities and stay engaged and on task while we are doing them.
I used this for my pre-k para last year. I printed it all out for her and she worked on fine motor skills at her teacher table all year. It made a huge difference!
Description
What is the Fine Motor Lessons + Activities Packet?

This packet is designed to offer an engaging and FUN way to explore fine motor! This packet can be used to supplement your morning work, centers, intervention, or as a whole-group fine motor curriculum. This packet contains 150 quick-lessons and 150 corresponding recording sheets.

These sheets can be used , placed into a , printed 2-to-1 page for a , or printed at 90% and placed in a .

Simply print the lesson rings and corresponding sheets.

What activities are included in the Fine Motor Lessons + Activities Packet?

This packet includes 150 activities! **VIEW A VISUAL OVERVIEW OF ALL 150 ACTIVITIES IN THE TPT PREVIEW**


1. Wrist Hand Activities

•Spreading
•Twisting
•Squeezing
•Stamping


2. Hand and Finger Activities

•Lacing
•Stringing
•Squeezing
•Poking
•Gluing
•Pinching


3. Scissor Activities
•Safety
•Progression of scissor skills
•Tearing
•Snipping
•Fringing
•Strips
•Angles
•Rounded Edges
•Curves
•Spirals
•Simple figures and shapes
•Complex figures and shapes


4. Drawing and Writing Activities

•Tracing
•Free drawing


5. Printing Practice

•Alphabet & Numbers

Supplies to have on hand:

•stamps
•finger paint
•scrap paper
•string/yarm
•bingo dabbers
•gems/stickers
•hole puncher
•Q-tips
•watercolors

Q/A:

Is this part of any other bundle/packet? Is this packet new?

This packet is completely brand new! The packet is not part of any other bundle.

Questions?

Please email me at littlemindsatworkllc@gmail.com
Would you like to receive notifications for my newly released packets and upcoming sale? Be sure to FOLLOW ME here on TPT!
**Join my private Facebook Group to join fellow Pre-K, Kindergarten, First Grade and Second Grade teachers that use my curriculum! Collaborate, chat and share ideas with like-minded teachers! Join the private Facebook group H E R E!
Visit my blog Little Minds at Work
Follow me on Facebook
Report this resource to TPT