Fine Motor March Activities | March Morning Work | March Morning Tubs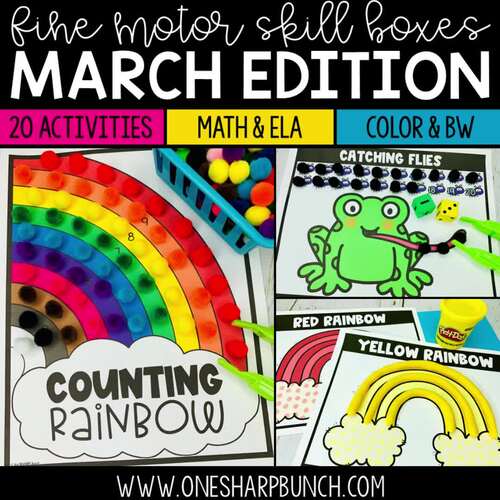 ;
What educators are saying
My students loved this resource during centers! There are so many great ways to differentiate these centers for all learners. I enjoyed this resource as much as my kiddos!
The kiddos enjoyed working with this activity. They were actively engaged in learning. Thank you so much
Description
ENGAGE your students, as they build FINE MOTOR SKILLS with these 20 MATH & ELA ACTIVITIES! Make the most out of FINE MOTOR TUBS or MORNING WORK or CENTERS with these MEANINGFUL TASKS!
This edition includes a total of 20 FINE MOTOR ACTIVITIES, plus 2 BONUS ACTIVITIES for:
ST. PATRICK'S DAY * SPRING
Catching Flies (pom poms | addition and/or subtraction)
Counting Rainbow (colored manipulatives | number sense)
Counting Chicks (yellow pom poms | one less and one more)
Kite Tails (chain links | one-to-one correspondence)
Tweet Patterns (pom poms | patterns)
Feed the Frog (pom poms | addition to 5)
Frogs on a Log (pom poms | subtraction from 10 to 0)
10 Speckled Frogs (green manipulatives | making 10)
Pot O' Number Bonds (yellow manipulatives | number bonds)
Sequence the Shamrocks (clothespins | number order)
Pattern Block Pictures (pattern blocks | shape recognition)
Alphabet Gold Rush (chain links | abc order)
Pot O' CVC Words (chain links | cvc words)
St. Patty's Sentences (chain links | sight word recognition and sentence structure)
Colorful Rainbows (play dough or colored manipulatives | sorting by color)
Read a Rainbow (pom poms | sight word recognition)
Sight Word Kites (alphabet beads | sight word recognition)
Colorful Speckles (pom poms | color word recognition)
Colorful Kites (beads | sorting by color)
Rainbow Blends (chain links | L blends)
CVC Chickadees (chain links | cvc words)
ABC Tulips (clothespins | alphabet match)
The fine motor activities USE COMMON CLASSROOM MANIPULATIVES:
- Pattern Blocks
- Play Dough
- Clothespins
- Chain Links
- Pom Poms
- Pony Beads
- Colored Manipulatives
- Alphabet Beads / Letter Tiles
Please DOWNLOAD THE PREVIEW for a closer look at each activity!
If you like these fine motor activities, you'll also enjoy these NAME BUILDERS and SIGHT WORD BUILDERS, which build fine motor control and name/sight word recognition!
Thank you for visiting my store! If you purchase this product, please remember to leave feedback so you can earn your free TpT credits, which are redeemable on future purchases!
Don't forget to follow my store for updates and fun FREEBIES!
Enjoy and happy teaching!
Stay connected! Visit my blog, Facebook page, and Instagram account!
Report this resource to TPT